The following article appeared in the December 2000 issue of Gundogs Unlimited
Collar Conditioning for the Gundog

How to create a good foundation with the Electronic Remote Trainer

Phyllis Giroux, DVM Jack Jagoda

We read with interest the article in last month's issue about the "Shock Collar as a Last Resort". In the past 20 years that we have been using Electronic Remote Trainers to train dogs, we have never considered them as a last resort, but simply as the most effective and humane way to have a reliable dog for obedience, field trialing, or hunting.

While every trainer will use the electronic collar in a different manner, all trainers will agree that the dog must first be "conditioned" to the use of the collar before it can be an effective tool in the field.

All the Electronic Remote Trainers with which we are familiar come with manuals that describe a basic training technique that will be most effective. We have just completed an updated manual for the Petsafe Sportdog Trainers, and will be happy to send you a copy, upon request.* There are numerous books, articles, and videos that are available today. We will briefly outline the best way to effectively use an Electronic Trainer.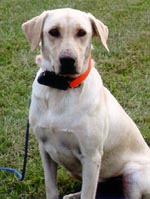 The dog already has a good understanding of basic obedience as taught with a collar and check cord. Work initially in a distraction free area. To introduce the Remote Trainer, you will need to determine the dog's "recognition level", that is the level at which he perceives he is receiving a stimulation from the collar. That perception is indicated by a lift of the ears, a cock of the head, or a head shake. This gives us a level that the dog perceives, but does not punish or terrify the dog to an extent that he cannot think or learn.

Once you determine this level, you repeat all basic obedience exercises using the trainer to reinforce each command, and the rope to guide the dog to perform the proper behavior.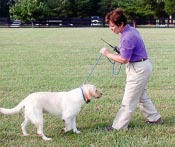 For example, for "come", let the dog wander away 10 –15 feet, then pick up and pull the rope while applying continuous stimulation (at the predetermined recognition level), and say come. Continue applying stimulation until the dog is at your side. After two or three repetitions the dog learns that the quicker he returns to you, the quicker the stimulation turns off, and he is delighted to come when called and be at your side!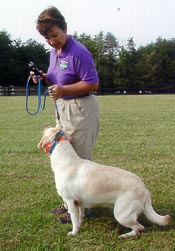 You repeat this same procedure for your sit and heel commands, until the dog is responding quickly and smoothly. Now that you and your dog understand how the trainer works, start introducing some distractions. Go to a field, or a park, or a shopping area. You may find that the recognition level that worked for your dog in the back yard is no longer effective.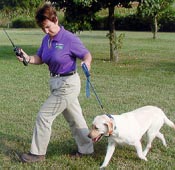 Gradually increase the intensity of the stimulation just to the point where your signal from the Trainer overrides the distraction. Repeat all obedience commands. You will probably only need to give a few stimulations to remind your faithful friend that you are in control, no matter how exciting the ball game or other distractions are.

You can at this time try to work without the leash, but always have it handy. If you progress too quickly, your dog will make mistakes and you will both get discouraged.

Work your dog with his Remote Trainer in hunting scenarios, around guns and birds, retrieving bumpers, using calls and decoys, in and out of boats, on land and in water. This is how he learns you truly have "the long arm of control" in your hand. He will respect this, and begin to understand that you are a team, he is not out there on his own, but must trust you to help him, as you trust him to locate scent, put game before the gun, and retrieve downed game.

Use the lowest level of stimulation that produces a trained response from your dog, not the higher levels that intimidate and punish him. You will find that once he understands all commands in all situations, you will only need to use the momentary stimulation (or nick) to get him back on track.

You will have much more control of your friend and hunting companion. Think of the remote trainer as an invisible leash. It should always be there to keep your dog safe from harm, and under control.

The author of the article is very lucky that his dog did not panic and bolt when applying the stimulation from the electronic trainer for the first time in the field. That is what most dogs do if they are not "collar conditioned" at home before they go out the hunting field.

All our basic work and preparation involves helping the dog to understand that he can turn off the stimulation by complying with the command. This is the foundation for all advanced training. We can talk more about that in future segments.

We have just completed filming a video for Gundogs Unlimited viewers and readers showing you exactly how this works. It should be available right after the first of the year. In the meantime, go slowly, take your time, and respect your dog.

Phyllis Giroux, DVM
Jack Jagoda

Deep Run Farm
www.DeepRunRetrievers.com

Note about the authors:
Jack and Phyllis have each been training and trialing retrievers since the late 1970's.Jack owned and campaigned the first ever Master Hunting Retriever.

They have 5 State Gun Dog Champions, and over a hundred Hunt Test Titles to their credit. They own and operate Deep Run Farm, a Hunting Retriever breeding and training facility in Virginia.