AFTER DEEP RUN FARM
Here are some more letters and photos we received from satisfied owners
From: Rick Conway
Date: Sat, 11 Dec 2004
To: deeprunfarm@deeprunretrievers.com

Hello Deep Run,
This is Ullr from your Rider/Cinnamon litter 4/4/99. He is a beautiful dog and very sweet and loving. Here he is on our sailboat--he would prefer to be in the water of course.
See photo of Ullr
Thank you for the best dog ever.

Rick Conway and Kim Perry
Falmouth, Maine (formerly Vail, Colorado)



Subject: Thanks Phyllis
From: Mckee, Rick
Date: Fri, 10 Dec 2004
To: deeprunfarm@deeprunretrievers.com

Dear Phyllis,
Wanted to thank you and your staff for the wonderful puppies Gal produced. My wife and me have had a truly happy experience rearing and caring for these little guys and gals. They are absolutely beautiful. The last one will be placed today so you may remove Gal and her pups from your website. The response to our puppies was overwhelming. I advertised in the newspaper as well and by word of mouth and I have a waiting list of about 10 people. In fact, some want to wait for Gal's next breeding. People all still calling and I am refereing them to Deeprun farm. I have also refered some new owners to you all for training as well, so I hope I have generated some business for you.
I will breed Gal one more time after she has a long vacation. I will call, hope Elvis will still be available.
See pup picture 1
See pup picture 2


Thanks and Merry Christmas,
Rick


Subject: Dragon and Carley
From: Robert Reed
Date: Mon, 6 Dec 2004
To: deeprunfarm@deeprunretrievers.com

We bought two deep run pups for family dogs. I have had many dogs in my life but I have never had two dogs that are more fun and more a part of our family. They love the kids and cant stand to be in the kennel when I'm out working on the property. I have had pound pups and local breeder pups, but I will never buy another pup anywhere but Deep Run. Attached are a few assorted pictures.
See Carley picture
See Dragon picture
See Carley and Dragon picture

Thank You,
Bob, Jacque, Ryan, and Jayme Reed
Litchfield Park, Arizona



Subject: labs (of course)
From: Patricia Leininger
Date: Sun, 28 Nov 2004
To: deeprunfarm@deeprunretrievers.com

Hi,
I am an obedience trainer for Fairfax County and also for the Olde Towne Pet Resort here in northern Virginia. One of your pups (Maggie Lancaster and her mom Trish) has been a "student" of mine for several months. I've got to say that Maggie is probably the best lab I've seen in the last 10 years. She is totally in control of herself, which, as you probably know, is rare in the labs being produced today. I gave Trish kudos for researching breeders and finding such a good puppy. Kudos to your kennel, also, for producing quality instead of just quantity.

Patricia Leininger



Subject: puppy
From:"ss3495"
Date:Tue, 23 Nov 2004
To: deeprunfarm@deeprunretrievers.com

Phyllis,
Wanted you to know that we received our new puppy safe and sound on Thursday. We are calling her Emme and have completely fallen in Love with her...She is everything that we wanted and more. She had her first experience in Colorado snow this week-end, it was a kick to se here try to hop through the deep stuff. We are so happy with her. Thank you for picking such a perfect match. We will send pictures as she grows. Have a Great Thanksgiving.

Thanks Again,
Skip & Sherry



Subject: Butch
From: CaptKCCharters@aol.com
Date: Mon, 15 Nov 2004
To: deeprunfarm@deeprunretrievers.com

Dear Phyllis:
Today Butch is one year old. I must say again thank you, thank you, thank you. Words cannot describe the joy he has brought to my life. He is one great pup. I have attached some pictures of Butch taken today.
Sincerely,
Ken



From: Craig
Date: 2004/09/06 Mon PM
To: deeprunfarm@deeprunretrievers.com
Subject: The Holy Season Begins -- More Ginny

Phyllis & Jack,
Forget my complaint about blind backs. Ginny has collected several limits of dove in the early season. I (& my compadres --- most with dogs) have yet to leave a bird in the field, largely because of Ginny. We poor-boys are hunting the deep, nasty cover we can get on, and each find saves countless minutes of shooting. Her final retrieve of Saturday's outing speaks volumes.
Down by the Colorado near dusk, I lung-shoot a bird that doesn't realize it's dead until crossing a rain-swollen river nearly reaching the other bank (about 80 yards). Ginny didn't see the bird (watching another swing back toward land), and I put her on the line. She balked for a second, I gave a "way back", and she took off hard swimming in the current for the far shore. About half way across, she spotted the dove, went into high gear, and some considerable time later fighting the current, made her way back with the bird.
Phyllis, you'll not remember this, but when I first talked to you about the dog I dreamed of, I said I'd be satisfied with a quiet, decent retriever that had a soft mouth. Well, this bird is deposited in my hand with the only feathers missing being the ones I worried out with my so-so shot.
She is a wonderful dog.
I talked to a fellow from Dripping Springs,TX last spring who must have seen one of my notes you posted. I told him if he was looking for a superior bird dog that doubled as a fine house mate, he should talk you out of a puppy. If y'all connected, I hope he proved worthy.
I swear I'll send photos with a later-season update. You'd get a kick out her Elvis/Hope combo looks.

Best to all at Deep Run,
Craig



Subject: Update - Deep Run Cabernet
From: Renee Faulkner
Date: Tue, 17 Aug 2004
To: deeprunfarm@deeprunretrievers.com

Hello -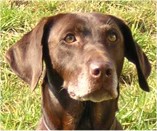 We bought our beautiful chocolate lab Cabby (Deep Run Cabernet) from you in the spring of 2003. At 5 years old (and after 3 litters, I think) you had decided that her breeding days were over and were looking for a good home for her. We bought Cabby to be a companion in our home. She has been such a wonderful addition to our family. We have two small children (under 3 years old) and another on the way, and Cabby is so great with them. I can tell that she was a good mother when she was with you - she is incredibly patient and sweet with all of us. Her temperament is terrific. She is very happy here - she loves to be near us and will not stay out in the backyard unless we are out there with her. She just wants to be where we are. She loves to ride in the car, swim in our local lakes, take walks, and play ball. She is a true retriever and I regret that she is not able to hunt with us, but we are looking into sending her somewhere this fall for a month of "camp" and a training refresher, just to keep her sharp. She is very obedient, but we can see that some of her skills are slipping since she came to us, since she hasn't been practicing.
I just wanted to give you an update on Cabby and thank you for raising such a well-mannered sweet dog. In the next few years we would like to come meet other retired breed dogs that you may have - we will always get our dogs from you!

Sincerely,
Tony, Renee, John, Lauren, TBD, and Cabby Faulkner
See Cabby picture 1
See Cabby picture 2



Subject: Deep Run High Kaliber (ElivisxRisky 3/9/04)
From: "Dana Williams"
Date:Sun, 18 Jul 2004
To: DeepRunRet@aol.com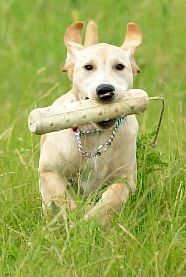 Hi, I just wanted to let you know how well Kali is doing. She is just over 4 months old now and a great addition to our family. For about a month now, I have been taking her out with my field training buddies, three of them are AKC Hunt Test judges. They have all been very impressed with Kali, and keep telling me what a great dog she is and how much fun I am going to have training her. Well, I'm already having fun training her! I was just amazed at how she went for the bumpers the first time she saw them, and how she just dove right into the water after a bumper, got it, and brought it right back to me. She continues to amaze me with her focus and intensity out in the field and then at home she is very loveable and playful. Just what I was looking for! I've attached a few pictures of her from this weekend. Isn't she beautiful!
See Kali photo 2
See Kali photo 3
See Kali photo 4
See Kali photo 5
See Kali photo 6

Thanks,
Dana Williams
Lucas, TX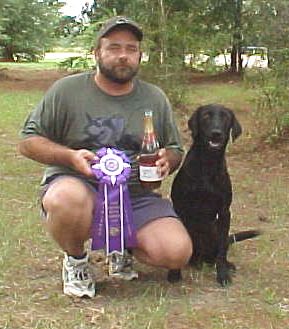 HRCH DEEP RUN BLACK IORN POT
and Timmy Gisclair


Subject: Deep Run Dalton-Upon-Camelot Update (Rider-Cinnamon 8/21/01)
From: "Michael Ziegler"
Date: Wed, 10 Mar 2004
To: deeprunfarm@deeprunretrievers.com

Phyllis & Jack,

Was reading your feedback board today and came across my last update on Dalton (Rider-Cinnamon 8/21/01) and realized I need to bring you up to speed since my last letter. In a word….WOW! Dalton went 4-for-4 to earn her HR title last spring and reaped the rewards of that hard work during this past duck season. She's really coming into her own as a hunting companion and we're becoming a very good team out in the field. Now that another hunting season has come and gone, we're back training with hopes of earning Dalton her HRCH title. I've also decided to run her toward her AKC SH and MH titles. I am happy to report that Dalton earned her first AKC Master and Senior passes two weeks ago. So it looks like we're well on our way this spring.
Thanks again and enjoy the photos,

See Dalton picture 1
See Dalton picture 2
See Dalton picture 3
See Dalton picture 4
See Dalton picture 5

Michael Ziegler




Subject: An Update
From: DandDBaley
Date: Fri, 27 Feb 2004
To: DeepRunRet@aol.com

Phyllis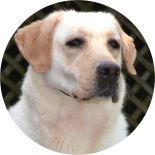 I often check the Deep Run upcoming litters web page and I see you are expecting an Elvis/Risky Litter. I would like to give an update on my puppy, Gidget, who is from the Elvis/Risky Litter in Oct of 2001. We have been training since she came home toward a career in agility. We started competing just after her second birthday last October and she is doing fantastic. Every time I go to a trial someone comments about what a great dog she is. She is smart, fast, and very focused. Her body structure is wonderful for this sport as she is all legs and all athlete. We had her x-rayed and she got an OFA rating of hips excellent and elbows normal. She and I have a great relationship and I am always excited to work with her.
We mainly compete in United States Dog Agility Association (USDAA) sanctioned events and have already moved up to the Advanced level. All her qualifying standard runs have been first place runs. This is not my first agility dog, but I am learning a whole new sport with her as she is so responsive to handling.
As far as the skills she was bred for, Gidget does agility because I so often her reward with a retrieve. She loves to retrieve and will do anything to get to get the chance to go. Additionally, each summer we go camping at a lake and Gidget spends the day leaping into the water retrieving. She is a fast and determined swimmer and does not tire through a whole day. It is a shame I have to work and don't have time to train for field work as well as agility.
I am attaching a couple of pictures of Gidget (Deep Run's Good Vibrations) doing agility. One is of her sitting at the startline because you can see that along with being intense, she is also a beautiful dog, although I admit I am biased. You are welcome to share this letter and the photos on your web page.
I look forward to my next Deep Run dog in a couple years.

Thanks again for a wonderful dog,
Diane Baley
See Gidget photo 1
See Gidget photo 2
See Gidget photo 3




Subject: Ginny Some More
From: "Craig Pence"
Date: Fri, 16 Jan 2004 14:46:20
To: deeprunfarm@deeprunretrievers.com

Phyllis,

I still can hardly believe this Elvis/Hope bitch you sent me. We just came in from collecting a duck limit on the Colorado River, and Ginny continues to shine. She's hell on dove retrieves, had more chances on quail and pheasant this year, couple more geese, and I'm still looking for a game she doesn't love to play. Marks like a pro... if I could convince her to trust me and back on long blinds, there'd be nothing left to work on in the off-season.
And better yet, she spoons with my wife at bedtime (for a few minutes, anyway), and has YET to grievously misbehave in the house. What a joy to live and hunt with this dog...
All I can say is --- Thanks again for the dog of a lifetime.

Craig Pence
Bastrop, Texas



Friday, 5 December 2003
Hi Phyllis & Jack
Another update on Gunner (Hombre & Nugget) 14 months. I have been very lucky to get Gunner in on hunts like these. 7 hunts he has over 100 water retrieves out of a boat blinds, tree stand, island blinds and with 3 other dogs. Everyone who has hunted over him is amazed at what he is doing in his first season. He is honoring, taking hand and whistle commands on blinds, marking very well (180 yards thru flooded smart weeds) his longest, double retrieves with other dogs. Again we could not be happier or prouder of him. Check out the pics!!!!
Gunner photo 1
Gunner photo 2

George and Toni Gower



From: AKGARRIS
Date: Sat, 29 Nov 2003
To: deeprunfarm@deeprunretrievers.com

Hi Mr. Jack and Dr. Phyllis!
As my dog, Macie, sleeps peacefully at my feet on her second birthday I reflect back over the past two years and what she's meant to me. We've already had alot of memorable moments together. We've gone 9 for 9 in the hunt tests we've entered. Not bad, considering the inexperience of her handler (me.) Just yesterday she went 55 yards on a blind for my first ever Gadwall. She lined the bird and chased him 15 yards while he kept diving under the cold water, but, as always she came back with him. She's the last thing I see at night and the first thing every morning. I can't imagine her not being there.

If anyone reading this is considering a Deep Run puppy, STOP! Considering a Deep Run pup is like considering if you would want to win the lottery. Don't waste your time considering, just do it. You'll be glad every single day that you did.

Thank you Dr. Phyllis and Mr. Jack for this wonderful dog and for all of your time and advice. I appreciate you both.

Sincerely,
Kyle & Macie
p.s. I hope to get some pics on here this week!




Subject:A pic of Chance from today
From: "Michael K. Henry"
Date: Mon, 24 Nov 2003
To: "Phyllis Giroux" , "Jack Jagoda"

I thought you might be interested in the attached photo of Chance taken at our hunting lease today. He is more city dog than country dog, but he has lots of enthusiasm!
Happy Thanksgiving!

mike




Monday, 10 November 2003
Hi Phyllis & Jack
This is Gunner (Hombre and Nugget) at 13 months. These are pics of his first duck hunt and a shot from the back yard. My buddies couldn't beleive how well he takes hand and whistle commands. We only got 10 but 6 of these where blinds and he made we very proud. His first hunts where doves at 11 month he retrieved around 100.He has been a pleasure to train and he loves to please. He is a wonderful member of the family and everything we hoped for at home and in the field.
Gunner photo 1
Gunner photo 2
Gunner photo 3

George and Toni Gower




Subject: Benny and Rita pup update
From: Gildenpfennig, Mary
Date: Wed, 24 Sep 2003
To: deeprunfarm@deeprunretrievers.com

Hello Deep Run Farms Family,

I just had to write and tell you about our puppy (now 8 months) Beautiful Bella. She was a Benny & Rita puppy. She is the light of our lives, I have never owned a lab before and I think that in the future that is all that I will own. Bella has a wonderful temperament, anyone she meets she loves. My husband Jeff has been working her for waterfowl and she is very good on staying and retrieving and even does hand signals and blind retrieves with ease. She lives with our 15 1/2 yr old mini. American Eskimo and they get along fine, I think she keeps her young. Bella is a Beautiful light yellow and weighs in at a hefty 68 lbs. right now, she is not fat by no means and loves to swim. When she is sitting on the deck and looking out she looks just like Benny and when she wants something and her ears are back she looks like Rita. I couldn't have picked a better dog if I tried. She is definitely spoiled rotten, she does sleep with us (not easy) and she has the St. Clair River to swim in everyday. Bella is a perfect example on why if in the future we get another lab we will come to you first! The trip to VA was defiantly worth it to get our little girl, I will send pictures soon and show you what a gorgeous dog we have. Thank you again.

Yours truly,
Mary and Jeff Gildepfennig




Date: Thu, 24 Jul 2003
To: DeepRunRet@aol.com
Phyllis & Jack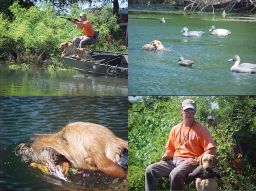 It's been a while, but here is a quick update on Ginger (Elvis&Bits 4/10/02) This past spring at 12 months of age she completed her AKC Junior title & 3 of 4 HRC Started tests. The fall tests start-up in September and hope to have her AKC Senior and HRC Seasoned titles completed sometime in October.
If all go's well Ginger will be ready for Master/Finished tests in February. There is a chance she may have her Master or Finished title before her 2nd birthday, it will be close.
Ginger turned out to be a very intelligent, loving, trainable dog with lots of drive as you can see from the picture. I could not have asked for better combination.

Thank you.... Keith Walkup
Austin, Tx.




Subject: Teddy's "vacation"
From: "Joan"
Date: Sat, 19 Jul 2003
To: deeprunfarm@deeprunretrievers.com

I've been meaning to write since I picked up Teddy on the 8th of July. I wanted to thank you all for making his stay with you so pleasurable. He had a WONDERFUL time. He was happy when I picked him up, but not the "thank you for getting me out of here" kind of thank you. He was obviously well taken care of and got plenty of exercise. That was pretty obvious based on the fact that he slept for most of the day after he got home.
Thank you so much for taking such good care of my best friend. He means the world to me and was definitely in good hands with your staff.

Sincerely
Joan & Teddy Macaluso




Subject: Murphy Photos
From: Sherree Barbey
Date: Fri, 4 Jul 2003
To: DeepRunRet@aol.com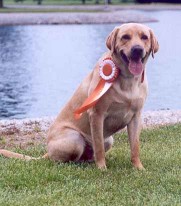 Hi Phyllis and Jack,
Here is Murphy (Elvis and Maggie pup). He now has 3 passes on his SH. He is 3 for 3. The judge commented during ribbon ceremony that he was only one out of 53 dogs that lined the land blind. I was so proud.
Thanks,
Sherree




Subject: NEW GRAND CHAMP
From: "Gisclair, Timmy"
Date: Fri, 9 May 2003
To: deeprunfarm@deeprunretrievers.com

I haven't emailed in a while but I wanted to let you know that T-Black passed his second consecutive HRC Grand to achieve is title. GRHRCH Deep Run Black Iron Pot SH. He has also gone 5 for 5 in Senior hunt test last fall and is 3 for 3 in Master Hunt tests this year. We are hoping to qualify him for the Master Nationals this year. T is out of Rider and Token. Thanks again for picking a truly talented pup for us.



Subject: Update on my Elvis/Rita Puppy
From: "Jennifer Eger"
Date: Mon, 3 Feb 2003
To: "Deep Run Farm"

Hello Deep Run Family,

I have really fallen behind on my updates, but rest assured "Mayzee" is still the sweet dog she always was.
The showing season has slowed significantly since the weather turned cold..........but, we did manage to find an indoor agility trial in Maryland this past weekend and "Mayzee" obtained two legs in the Open Standard and Open JWW classes of agility.
I was approached by a couple of the exhibitors who have watched Mayzee grow and mature. They were telling me that she has come a long way and is a good working dog. They didn't know that I already knew that!!!!
She completed her CD obedience title in the fall. So in 2002, she completed her CD, NA and NAJ titles........not bad, huh!!!!
Our older black lab is showing signs of illness. Should she take a turn for the worse, you may be hearing from me looking for Deep Run puppy #2.
I always speak positively of my Deep Run experience.
As the spring show season kicks into gear, I will try my best to be more regular with my updates.

Jennifer Eger




Subject: Update from South Dakota
Date: Thu, 12 Dec 2002
From: "Bonnie Puthoff"
To: deeprunfarm@deeprunretrievers.com

Our 6 month old lab out of Rider/Jordan is doing great! Her coat is the deepest chocolate we have ever seen in this area! Remi has had two hunting outings, which after the second one she decided my husband was "God" and prefers him to me, who takes care for her 24/7! But not complaining, their trips weren't successful in "bagging the birds", but her interest is great and my husband swears she will be a pointing lab, lots of hesitation at scent, etc. Retrieving practice continues and she is getting hold down to an art. She is a very well mannered house dog and gets along great with our 13 yr old miniature dachsie. She has a friend, a 4 mo old golden next door and she really enjoys giving her the business, makes for lots of entertainment! We were wondering if you have heard from any owners of her littermates and how they are doing?

We are having a tough year, our pheasant population in this immediate area is down, have to travel quite a ways to get into any good numbers. Don't want to pressure Remi this year and plan to spend the summer reinforcing what she already knows and setting her up with some good water work. Hope you all have a good holiday season and thanks again for a great pup!

Bonnie Puthoff




Subject: My Molly, HeidixElvis pup born march 2002
Date: Thu, 26 Sep 2002
From: stephen_laabs
To: deeprunfarm@deeprunretrievers.com

Jack and Phyllis,
I wanted to write and thank you for this wonderful dog you sold me. Molly is the smartest dog I've ever had. She picks up new commands awfully quickly. She's following hand, whistle, and voice commands. She's only 6 months, and she's already doing double and blind retrieves, handling, and quartering. All this in spite of a diet that's undoubtedly overly rich in plastic and tree bark!

Her delivery to hand is pretty good. The puppy training video I got from you was great, and over the last two weeks I've concentrated more on the "hold" commands you demonstrated on the table. I've already noticed an improvement. Molly lines pretty well, too, but I'm working on maintaining straighter lines and perpendiculars with hand signals. Have you put together any more of these videos? If so, please let me know; I'd love to get them.
I took her resident goose hunting a week or two back, but in the end I was afraid to send my puppy after our only goose, which was very large and still very much alive. I'm sure she would have done fine, but I didn't want to take the chance of spooking her on a big, mean goose while she is still so young. We sent my dad's lab, whose last season this will be. Nevertheless, Molly was very excited, yet obedient. Later, she did a number of water retrieves, including one that included taking hand signals while in the water.

She's a wonderful dog. Thanks again.

Sincerely,
Steve Laabs



Subject: My Annie
Date: Mon, 12 Aug 2002
From: "Alice Kayrouz"
To: deeprunfarm

I've been looking at your web site and had to write you about my Annie. She was born 12-13-2000, from Donna Wayt's lab "Pertie" with your Elvis as the sire. She's a gorgeous black lab and the major delight of my life. I'm not a hunter and not interested in hunting titles for her. I wanted a good SAR dog. I sure got one. She was "finding her victim" and going right in to them the first time. By January she should have her NASAR certification, as well as CERF and OFA. She's been through a few obedience classes and is now in agility also. I plan advanced obedience and advanced agility for her. She's too good not to! She's been a little scary for me to own the few times she shocked me! I didn't know dogs swam UNDER WATER! She's a retriever to say the least, but I never expected she'd go to those lengths to retrieve. Scared me to death. I thought she was drowning and was on my way out there to save her. I provided plenty of amusement to lookers on. But she's just so precious to me. She's my travelling companion, exercise partner and best friend. I have several hunter friends who are already asking when I'm going to breed her. Not for a while, but if I do, you'll be the first to know! I need her 2 yr OFA and CERF first to obtain full registration on her before I even think about any breeding and I'll be begging your advice on the proper sire. Thank you so much for Elvis as her sire. When she gets her SAR certification and can go on a REAL search, I know given the opportunity, she'll save a life. She's just THAT good. Best wishes for continued success with your dogs.

Alice Kayrouz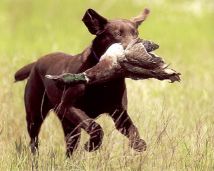 The attached photo was taken on Dalton's (Rider-Cinnamon 8/21/02) final retrieve to complete her SHR title at the Three Rivers HRC Hunt Test in Tulsa, Oklahoma, back on May 5. She was a little older than eight months at the time. Everybody compliments her on how bright her eyes are. This photo does not do them justice. (Click to see larger photo of Dalton)
My wife and I will be coming to your farm on July 5. We are attending a wedding in Alexandria, Va., but arrive early Friday and will be renting a car to come down. We are looking forward to meeting you as you have been very helpful since we received Dalton. I personally would love to see Rider work if he will be there.

Thanks,
Michael Ziegler
Corporate Marketing Manager Fort Worth Brahmas
Hockey Club




Subject: Update of my Elvis/Rita June 2000 Puppy
Date: Mon, 8 Apr 2002
From: "Jennifer Eger"
To: "Deep Run Farm"

Hello Deep Run Family,
It is with GREAT pleasure that I wish to inform you that my Deep Run dog, can't call her a puppy anymore, has completed her first AKC title, so . . . .
INTRODUCING . . . Deep Run Slinger of the Mud, "NAJ"
"NAJ" is Novice Agility Jumpers. Mayzee, the name we chose for her, was quite the crowd pleaser at the Golden Triangle OTC Agility Trial this weekend. She was FAST and had CLEAN RUNS 3 out of 4 runs so that "NA" is just around the corner as well. If she had not knocked a bar, she would have been 4 for 4. A labrador retriever does not usually get that in the shows I have been at. All of her qualifying runs were FIRST PLACE finishes. She works really, really well. She also works away from me and checks back with me for direction of where to go next. She is AMAZING MAYZEE!!!
If you can't tell by reading this email, I am THRILLED!!!!! This little girl, as I refer to her now, has ended up to be the BEST working labrador retriever that I have every owned.
THANK YOU for allowing us to be a member of the DEEP RUN FAMILY!!! It has been the best experience of our lives since the day we, my husband and I, brought her home.
More GOOD NEWS should follow later in the spring as we have a little break before our next trial.

Good Bye for now,
Jennifer and Denny Eger and "MAYZEE"



Subject: Agility Accomplishment
Date: Mon, 8 Apr 2002
From: Onemorelab@aol.com
To: deeprunfarm@deeprunretrievers.com

Phyllis & Jack,
Deep Run Ultimate Velocity, "Remington", son of Abby & Rider took first place in the 24" class of Novice B Standard this past weekend at Columbus All Breed's AKC Agility trial. He had a clean run of 100 points with a course time of 38.15 seconds.
The standard course time was 65 seconds. Who says you need a Border Collie to win in agility!(grin).
Having served on the trial committee, I attended the Judge's Dinner that evening. The Judge in his class thought he was incredible and that he is built the way the breed should be represented.
Thank you for such a wonderful dog! We love him very much!

Suzi Schmitz
Remington, my future MACH dog ( Master Agility Champion)



Date: Thu, 4 Apr 2002
From: Sherree Barbey
To:DeepRunRet@aol.com

Phyllis, Hi.
I wrote to you around xmas about Murphy. (Elvis/Maggie pup) Just wanted to update you. He is really clicking now. Was recently introduced to triples, and did wonderfull. Running 150 yard blinds on land. He can really, really mark. Will be doing alot of water blinds now as he hasn't had alot of them due to weather. He is 1 1/2 yrs old. If he gets his title in intermediate will send you pic so you can put on website if you want. You would be proud of him I think. (Especially with me as a new trainer,as he "gets it" despite the new trainer). Hopefully we can go to a test where you could see him run one day. Thanks again. Deep Run is great!!!!!!



19 March 2002
Hi Jack & Phyllis,

I wanted to drop you note on how well Maggie is doing. She knows all her obedient commands perfectly (sit, stay, come, etc.). I train her everyday and she can't get enough. She just wants to please, please & please. I have her retrieving to hand on land and water. She loves Long Island Sound! We go to the beach every weekend and she just wants to retrieve all day if she had her way.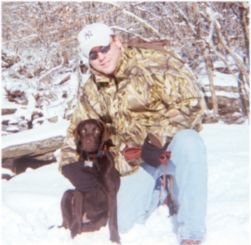 We joined the Fairfield County Labrador Retrievers Club. Great Club! Maggie and I have learned so much! Through my club we were invited to a tower shoot in NY. The club needed dogs to retrieve birds. I did not know what to expect! I shot over her a couple times during Duck season and she never flinched, but a tower shoot would be quite a different experience for her. We sat back for the beginning of the shoot for about ten minutes, but she just wanted to get to work. I was amazed how she was never spooked with all the shooting going on.

The first couple of retrieves for pigeons were accomplished on a 30FT lead. She was perfect: sit then hand to mouth. Then we tried it without the lead, again she was perfect (no confusion at all, she knew exactly what to do).

Now it was time to try one of those big birds (Pheasant and these were the biggest and fattest Pheasant I have ever seen), Unfortunately, these birds were just to big, she could not properly pick them up in her mouth. She tried dragging them to me, but I was not going to allow that., so we stuck to pigeons off the lead and she would go only on my command "MAGGIE". She would try and saunter over to a pheasant but one blow of the whistle and she was back on course. It was absolutely beautiful!!!

She was spayed on March 7th and she has been stir crazy. She wants to get back to work so bad and tonight she will. It seemed as though she recovered in one day after the procedure, but as we all know, as good as she thought she felt, she had to lay low on a leash for 10-12 days. Her incision looks perfect and you can hardly notice it, my Vet. did a wonderful job.

I must sign off now and get home to my Best Friend in the World, but before I do that I just want thank you both for delivering this incredible joy in my life and I can truly say that Maggie would tell you the same!

THANK YOU!!! THANK YOU!!! THANK YOU!!! THANK YOU!!! THANK YOU!!! THANK YOU!!! THANK YOU!!! THANK YOU!!!

All The Best And Enjoy The Picture!

J. Christian Leahy



Subject: Update on Jake
Date:Wed, 6 Feb 2002
From: Jon Lowe
To: deeprunfarm@deeprunretrievers.com

Dear Deep Run

We just wanted to send you an update on Jake (Elvis X Risky Oct-01). Let us start by saying everything you promised, you delivered. We definitely got what we paid for, and Jake was worth every penny! He is absolutely an unbelievable dog. After a little bit of a rocky start, Jake was housetrained in only 10 days (knock-on-wood); Sleeping through the night in only 2-weeks; and the most intelligent, fastest learning puppy we have ever had. "Well socialized" is an understatement; on our very 1st visit to the vet she commented that Jake was one of the most socialized 8-week old puppies she had ever met. Jake loves everyone AND every dog he can get close to. He is the star student in his puppy class, and a favorite of not only the instructor but also all the other dog owners in the class; we have yet to meet someone who hasn't complimented us on Jake. We have been so impressed with Jake we have already begun to consider another addition to our family from one of your spring litters (what chocolate litters' do you have planned? Any with Elvis as the dad?) (Also, do you train for obedience titles, or just the hunting titles?). We have attached some pictures, please feel free to post them if you'd like. Thank you Deep Run, thank you for the fantastic job you all do providing top-o-the-line pups that are second to none. We have already and will continue to, recommend you to anyone who asks, where did you get that dog? We'll look forward to hearing from you about the chocolates and the obedience training, and can't wait to get another Deep Run puppy sometime in the future.
See a picture of Jake 1
See a picture of Jake 2

Sincerely,

Jon & Laci Lowe
Williamsburg, VA



Subject: Thanks
Date: Tue, 29 Jan 2002
From:"John O. Shirk"
To:
Our Elvis-Bits pup, Deep Run Lantoga Annie, is now a year old. We are blessed with a perfect family dog and a perfect hunting dog as well. She is a complete joy, with a warm and loving disposition that makes her a great companion. She wants to learn and wants to please. She is teaching me --slowly, because I am an older dog -- so much about training. Excellent obedience, strong marking (we are doing triples and quads from a dummy launcher), and lining and casting are coming along nicely -- not up to the Elvis feats reported in the National Geographic article yet, but I think we will be within the next 6 months. She is steady to wing and shot, and in her first year has retrieved at least 200 pheasants (our farm has a regulated hunting ground license), 40+ ducks and a dozen geese -- with intensity and desire that make hunting worthwhile. Annie got rave reviews from the dog handlers at The Woodmont Club in Western Maryland in early December -- one who evidently has met Jack in Hunt Tests indicated she was performing well enough to be working on the intermediate hunt test level (Senior Hunter???). (Wish there were some clubs a little closer so we could give that a try!).

The point of all of this is not to brag about "my" dog, but to let you know of the high regard I have for the Deep Run Farms group. The commitment that you folks have to quality sticks out in every thing you do -- and particularly in the puppies. Should you have any central Pennsylvania prospective customers who are looking for a reference, I would be happy to provide one.

Thanks,
John Shirk





See the

page of letters and pictures from our satisifed customers







Deep Run Farm
13727 Blackwells Mill Road
Goldvein, VA 22720

(540) 752-4710/4888 FAX (540) 752-4775 deeprunfarm@deeprunretrievers.com


Home | About | Breeding | Puppies | Trained Dogs | Health Care
Customer Feedback
Kudos | More Information