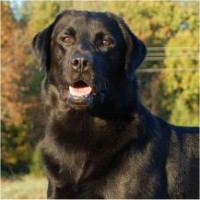 Sam
English Lab
(click for large picture)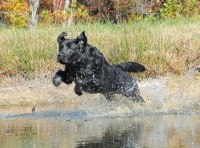 Sam completed AKC Master Hunter Title in June of 2008, and his AKC Championship on July 5, 2008, with multiple Best of Breed wins over Specials. He was 40 months old when he completed his Championship, quite an accomplishment for both the Championship AND the Master Hunter title. In August of 2008 he completed his Canadian Championship in one week of showing with a Sporting Group 1. Additionally, Sam completed his UKC Championship in one weekend of showing, with two Group 1's, a Group 3 and two Group 4's. THREE CHAMPION TITLES and a MASTER HUNTER TITLE in ONE YEAR!!!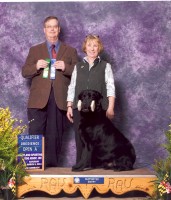 In 2010 Sam completed his CD, RN, RA and RE titles with numerous class placements. In 2011 we completed his CDX title with while continuing field work. He also received a Judges Award of Merit at the Raleigh-Durham Labrador Specialty under respected Breeder-Judge Patty Block. Sam completed his Utility Dog title in Obedience on April 8, 2012 and Grand Champion in January, 2013 making him the first Labrador to have ever achieved all these titles (GCH/UD/RE/MH/MHU). Read the AKC congratulatory letter posted on the AKC website (PDF).

Sam is outgoing, friendly, and is very intelligent. He loves to please, and loves to work. He is a natural water dog, loves icy water and has a great thick double coat to keep him comfortable in all sorts of weather. He is a great marker with a natural good memory for multiple falls. He is very athletic, and loves to run and play with the other dogs here at Deep Run Farm. Sam was a star in the show ring, his soundness, sporty movement, and breed type caught the eye of the judges who gave him his wins. To those judges, we are grateful for recognizing this great young dog. Sam's father is CH Sundance's Paddy's Irish Cream, CD MH. Sam's mother, Am, Can CH Pembroke Black Mist Poplar Forest, MH, WCX is the youngest CH, MH in the history of the breed.
Sam is OFA Excellent, OFA Elbows, CERF, OFA Cardiac (Doppler), Optigen A, RD and OSD Clear, EIC Clear and CNM Clear. Normal Thyroid. CHIC. Full Dentition. Sam carries yellow. Sam is producing black and yellow pups with superior working abilities, lovely conformation, sound minds and bodies. We are thrilled to have a yellow son of Sam's Deep Run Casablanca SH working on his accomplishments now.
Here is a copy of Sam's OFA page
Available for frozen semen breeding. Sam's stud fee is $1500.