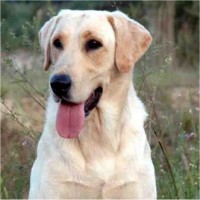 Rocky
American Lab
(click for large picture)
We are proud to include Rocky in our star filled stud dog lineup. Rocky was bred and born here at Deep Run Farm, and from the beginning, he caught our eye as a spectacular young pup. His remarkable marking ability, intelligence, and tractability made him a standout from his littermates. His pedigree certainly showed promise: his sire, Elvis, was one of our best producing stud dogs, who has consistently sired great looking pups with loads of talent, drive and desire, filled with courage and tenacity. Elvis's love for cold water, ice, and heavy cover made him a favorite not only as a producer, but as a hunter and hunt test dog as well. Rocky inherited all Elvis' boldness, style, and talent, with the tremendous addition from his mother, Anna (Prairiemarsh Manitoba Marker), daughter of 2xNAFC FC 2xCNAFC CFC Ebonstar Lean Mac, and FTCH AFTCH Coldcreek Kayla To Go, MH, littermate to 2 dogs who have won Canadian Nationals. In field trials, Rocky collected 6 Derby points (including a win) in very limited trialing , prior to aging out of Derby. Rocky quickly completed his Master Hunter Title, qualifying for the 2006 Master National. On his way to being QAA, Rocky placed Third in his first Qualifying Stake sponsored by the Labrador Retriever Club in Elkton, MD.

Rocky was not only a talented competition dog, he is also a terrific house and hunting dog. Rocky went on numerous duck and goose hunts, including several Sea Duck Hunts, where (at 18 months of age) he enthusiastically lept from the stern of a 42 foot boot into the icy surf of the Chesapeake Bay to retrieve the limit of sea ducks. Rocky is 85 pounds of solid muscle, talent, and intelligence. He is very tractable, and is game for any agenda: training, trialing, hunting or retriever demonstrations around the country. His easy going, relaxed manner make him a great traveling companion, and his intelligence and pleasing personality make him a terrific student. He is a handsome and striking dog, his intelligent, alert expression on his well muscled athletic body make him very pleasing to watch.
After an exciting career on the Deep Run Team, Rocky is living in his retirement home with Keith and Barbara McDonald.
OFA Hips Excellent (LR 153789E), OFA Elbows Normal (LR-EL27937) CERF (LR -43245/2005). EIC and CNM Clear.
Available for Frozen Semen breeding only. Rocky's Stud fee is $1000.