AFTER DEEP RUN FARM
Here are some more letters and photos we received from satisfied owners
(Last names and addresses have been omitted)
Subject: Letter from a pleased new owner
From: Pat
Date: Wed, 26 Sep 2007
To: deeprunfarm@deeprunretrievers.com

Hi,
I am sending this for my son, Matt. But,in fact, our entire family could not be more pleased with K Bear. My husband and I first found out about you all a few years ago at a rest stop on rt 95 when we saw a new owner with one of your chocolate labs. We have always had yellow labs, but the pup we encountered that day was extraordinary. A year later, one of my students in Bethesda, MD came to my house to show me her new chocolate lab that she had just picked up from you. We knew when it was time to get our son his yellow lab, you would be the ones we would contact. Your reputation is excellent, and we are all sure that we made the best choice.
Thanks so much for the care you give to all of your little ones.
Please read Matt's letter.

Pat


Subject: Our spencer x charm pup
From: Julie and Kevin
Date: Tue, 18 Sep 2007
To: deeprunfarm@deeprunretrievers.com

Hello Phyllis and Jean,
Just wanted to let you know how she is doing. We have named her Star ( Deep Run Our Star Dust Dream). Star fit right in from the second we got home with her. Our other 2 labs were thrilled with her arrival. Of course now, when they wrestle she joins right in. And she has been steam rolled on occassion. But gets right back up and joins again.
I also wanted to say I contacted a local breeder to get information on local Labrador clubs and to see what they thought we should get Star involved in locally . I mentioned we got Star from Deep Run and the breeder let me know she has seen Deep Run dogs before and that they are very good dogs. We drove out to her house and she was very impressed with Star.Her bubbly personality, her light color and dark pigment, her pedigree ... the works!!! And she sent me an e-mail a couple days later telling me that Star has tons of potential !!! Which is so nice to hear !! And I thought I should share with you, not that you don't already know, but Deep Run has quite a good reputation even in upstate New York with a local breeder , her name is Trish from Four Seasons Labradors.
So to wrap this up, Star is a beautifully stunning pup that turns the heads of anyone that sees her. Which is exactly what I said we wanted..And Deep Run Retrievers delivered right on que. I'm sure Star won't be the last Lab we get fron Deep Run.

Thank you,
Julie and Kevin


Subject: Claire
From: Kathy
Date: Tue, 18 Sep 2007
To: deeprunfarm@deeprunretrievers.com

Deep Run Farm,
I just wanted write to say THANK YOU for my little sweetie, Claire, from Deep Run and an offspring of Hannah and Hero. Since my husband and I have been married we've raised 3 yellow labs, Claire being our third. Unfortunately, my old guy Murphy is no longer with us. So now it's Claire and Tilly, our 7 year old.
When Claire came home for the first time over a month ago it immediately became apparent the difference in a Deep Run dog. She is so happy, social, not timid at all, confident, and such a love! Above all smart stands out the most. Though Tilly is smart there's just another level in Claire's reasoning that speak volumes of the quality of your dogs.
She's completely house trained already. She goes to the door to go out. She and Tilly are getting along so well however when they tag-team the cat that I feel obligated to step in…… And, I'm confident that Tilly thinks Claire is her baby. Our vet was so impressed with Claire that he's now waiting for the birth of his own pup from Deep Run.
Here's some pictures and thank you again. Whatever you're doing to make these dogs the outstanding citizens that they are, please keep doing it.
See Claire picture 1
See Claire picture 2
See Claire picture 3

Kathy


From: Christopher
Date: Sep 18, 2007
Subject: Many Thanks Deep Run Divide and Conquer
To: deeprunret@aol.com
re: Deep Run Divide and Conquer
[Rider x Indy 6/10/06]

Dear Dr. Giroux and Mr. Jagoda:
I just wanted to drop you a brief note and again say thank you very much for such a wonderful dog. This past weekend, Deep Run Divide and Conquer, (aka "Divot"), passed his first NAHRA STARTED tests at Navesink River Hunting Retriever Club. Divot's has become such a wonderful addition to our family. It seems as if I ran into so many people who complimented me about Divot and all who seem to know you and hold Deep Run Farm in high regards. You seem to have a lot of friends up here in NJ. Thanks again and I look forward to meeting you at one of the NAHRA tests one day.
See Divot picture 1
See Divot picture 2

Regards,
Chris


Subject: Chloe update
From: Kelly
Date: Sun, 16 Sep 2007
To: deeprunret@aol.com

Dear Phyllis and Deeprun Staff
We just wanted to let you know how much we adore Chloe (Buddy x Irish). She is doing great and adjusting so well to our busy lifestyle. Its been a week now and her personality is really starting to show. What a great dog. She loves getting into all the kids toys. She especially loves stealing the rag doll from the toy basket. But I have to say, she always drops the things we tell her to. She has wonderful manners for a puppy and your staff did a great job with the puppy training. Thank you for such a sweet, loving family companion.

Kelly & Derek


Subject: TO PHYLLIS
From: Val
Date: Sun, 9 Sep 2007
To: DeepRunRet@aol.com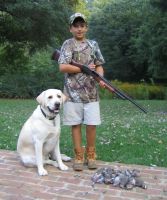 Hello, Phyllis. Greetings from Spider Hollow.
Another year passes and another bird season begins. Two shoots so far and each time all got their limit. Bear fetched well in the September heat. This dog continues to be the happiest and enthusiastic labrador we have known. He is always 'up' and ready for anything the day brings. I am longing for the day when I can add another to the household. Soon... Hope you are well. Enjoy the attached picture.

Regards,
Val


Subject: Our boy, Casey
From: Linda
Date: Sun, 2 Sep 2007
To: deeprunfarm@deeprunretrievers.com

Greetings from Oakmont, Pennsylvania!
I haven't written for a while, so I thought I'd take just a moment to update you on our Casey.
He is physically gorgeous - solid as a rock with the face of an angel. (I swear he smiles!) Casey and Kier go for long treks in our town's woods at least twice a day. They have other human and furry friends they run and romp with during much of those times. A good time is had by all. Give Casey a hard, red rubber ball and he will annoy you until you play many rounds of catch in the backyard.
He has a WONDERFUL temperament and personality plus! He is the darling of the neighborhood and Seneca Village where my elderly mother lives. It warms our hearts to see the residents' faces light up when Casey pays them a visit. He and Mr. Kitty are pals and have taken to sharing the sofa during naps. Casey and his cousin, Tucker, are great buddies - kissin' cousins for sure!
Jack will smile to know that Casey is his father's son when it comes to being a couch potato. Every morning Kier must keep calling and calling for him to go to the woods. Casey is still in bed with me, totally enjoying our cuddling and kissing.
If Casey were in my school, he would be in the Gifted Students program. I marvel at his intelligence. He takes orders well, and he can definitely tell time. He knows our mailman's route and can hear the truck when it is blocks away. Mailman John leaves Casey a small biscuit every day. No matter where I am in the house when the mail is delivered, my boy lets me know it has arrived.
Casey is truly our love. He is everything we hoped for and much, much more. If ever you would need a testimonial to Deep Run Labs, we're your people!

Best wishes and continued success,
Linda
Casey's mom


Subject: The Best Puppy EVER!
From: Sara and Dave
Date: Sat, 04 Aug 2007
To: deeprunfarm@deeprunretrievers.com

Hi Phyllis, Jack, Jean, and everyone at Deep Run!
Just wanted to send a quick note to thank you all for breeding such wonderful dogs! We picked up Deep Run's Strong Brew (Brewer) a Buddy x Irish pup on June 16th and are convinced he is the smartest, easiest to train, most loving puppy anywhere! He knew sit, down, come and kennel within 2 weeks, and I can count on 2 hands the number of accidents he's had in the house. He LOVES to swim, and looks just like an otter, whether he's in the pool or the creek. Today was his first shot at retrieving in the water, and he splashed right in and brought back his ball or a big stick each time. No one can believe he's only 15 weeks old - he's so mellow and well behaved! My parents love him so much that they're in the market for a "Buddy puppy" for the fall:) Anyway, here's some recent pictures of our guy - growing like a weed at almost 30 lbs! Thank you again for everything - we couldn't be happier with Brewer!
See Brewer picture 1
See Brewer picture 2
See Brewer picture 3

Warmly,
Sara and Dave


Subject:Thank you
From: Chris
Date: Tue, 17 Jul 2007
To: deeprunfarm@deeprunretrievers.com

Hello all,
Just wanted to drop you a line to let you know that Cali (Star and Spencer's pup) is doing great! Everyone that meets her falls in love. Thank you so much for picking her out for me, she is just perfect. Cali has quite a personality and is so intelligent, just about house trained to-date. My Persian cat and she are getting to know each other and are actually playing together at times. You must have started training the sit command before she left the farm, Cali definitely knows that command. We all sleep together and are one happy little family.
Your farm will definitely be recommended to all my friends and family.
Thank you again for all you have done!

Best Wishes,
Chris


The following three messages are a testimonial

Subject: FW: Deep Run Labs (answering your question)
From: Joan
Date: Tue, 24 Apr 2007
To: DeepRunRet@aol.com

Dear Phyllis,
I just thought I should copy you on this. One of my LabTails blog readers is considering getting another Lab and asked for my opinion of Deep Run (having read there that we got two of our Labs from you). Her only concern about getting a dog so far away from where she lives (they're in NY) is that you (the breeder) would be choosing the dog for her.
What's immediately follows below is my honest reply (and it really is honest, since I didn't plan to copy you on this when I wrote it). After my reply below comes her original.
Just thought you'd like to know! :o)

Thanks again for the fine work you do with and for the breed. And we're deeply grateful for our two females from you: Elsie (Elvis and Mardi litter 7/12/04) and Kenya (Buddy & Maggie litter 8/5/06). We couldn't have asked for better Labs more suited to us and our needs. Both are thriving. :o)
Thanks again, and I'll try to update you soon with photos.

Joan


From: Dee-Marie
Sent: Tuesday, April 24, 2007
To: Joan
Subject: Lab Tails Blog

Hi Joan,
I ran across your blog while researching Labrador Retriever breeders. Although I live in Upstate New York, I have been very interested in the puppies from the Deep Run Farm; especially after viewing one of their puppy training videos. This will be our fourth Labrador. Two years ago we lost our big yellow boy, Shark. His mom, Kodiak (a chocolate), is a getting on in years. Our youngest, Jake (black male) just turned five. So, needless to say, we are ready to invest our love into another furry ball of "adventure." A house is not home unless it is filled with wall-to-wall Labs.

Among my reservations about getting a dog from an out-of-state kennel ... is having the breeder pick the dog. Did this pose a problem for you? Were you happy with the breeder's pick?

If I read your blog correctly, you have purchased two puppies from them. I can only assume that you are impressed with their breeding program and their puppies.

I can tell from your blog and the photos of your dogs that you truly care about your babies. Thus, I hope you do not mind me contacting you as a reference to the Deep Run Farm.

Wishing you a great day,

Sincerely,
Dee-Marie


From: Joan
Sent: Tuesday, April 24, 2007
To: Dee Marie
Subject: Deep Run Farm Labs (answering your question)

Hi Dee Maria,
Thanks for contacting me; I'm delighted you did. And, yes, two of our Labs (Elsie and Kenya – our girls!) came from Deep Run.
I can't recommend Deep Run highly enough!!!! They're, quite frankly, the best Lab breeders we've encountered (and we've encountered a few).
Yes, they picked our dogs for us, but only after carefully reviewing our application (both times) and interviewing us over the phone (the first time only). And I don't think they could've picked pups better suited to us. Kenya and Elsie have both proven to be exactly what we needed, wanted, and hoped for. They're fabulous representations of the breed (by breed standard, intelligence, and temperament), and they are both perfectly suited to our environment (Kenya, for example, needed to be a little spunky to hold her own with the three Labs we already had when we brought her home – and she's been a perfect fit for our crew since day #1). And both matched our need for hunting trainability. Elsie and Kenya both have terrific retrieving instincts and are training well, Elsie in particular (Kenya is still quite young, but showing great promise).

The only real risk I see in letting the breeder choose the pup for you is the chance that a suitable puppy may not be found in the litter you think you're choosing from (and then it's just a matter of waiting for the next appropriate litter). It may be a momentary disappointment, but probably well worth it in the long run. You really do want a dog that's suited to your needs and environment, and the folks at Deep Run know their dogs well and seem to predict future performance aptitudes and personalities in their pups quite well. (FYI, we never had to wait for another litter; both times we took a pup home from the litter we reserved in.)

Both times we've reserved a pup from a Deep Run litter, one pup in that litter perfectly suited our needs (and yes, we chose the litter and the pup color and gender to start, but added all kinds of other requirements about temperament, field instincts, size, and such). Phyllis Giroux at Deep Run honored our requests to the finest detail both times. And both pups ended up being exactly the dogs we needed. We couldn't have picked any better for ourselves.

Just a heads up: the Deep Run application is lengthy (which is actually a good thing for both of you – they're just trying to know as much about you and your preferences as they can to make appropriate placements). They are very careful about placing their pups, and are committed to them for life. They are so committed, in fact, that if you ever have a problem with a dog (or with life circumstances) that would necessitate your having to give up the dog, they want their dogs returned to them (not taken to a shelter or to the dog pound or whatever). That's a great indicator of how committed and responsible they are as breeders.

Their facilities are fabulous (we drove the 7 hours one way both times to pick up the pups and saw the grounds and kennels first hand). Every person we've dealt with there has been not only a pleasure to interact with, but knowledgeable as well.
FYI, we have never had a dog shipped to us, so I can't tell you about that (but they do ship, if you need them to ship the pup to you, especially since you're in NY and they're in VA). We've always driven to pick the dogs up ourselves.

I can tell you, however, that Deep Run Farm is a fabulous, responsible breeder that will ensure you get the right dog for you.

I hope this helps. Feel free to contact me if you have any other questions. I hope it works out for you!

Joan


---


Subject: Gabby
From: Michelle and Tom
Date: Tue, 13 Feb 2007
To: deeprunfarm@deeprunretrievers.com

Hi Phyllis and Jack,
I'm sorry it has taken me so long to get these pictures to you. I think you asked me in August, but here they are. I can't tell you how many people still comment when they see Gabby off the leash that they can't believe I have my beagle off a leash. She is doing really well and loves to be able to run in the park without a leash holding her back. Her tail wags so hard the entire time she's out there.
See Gabby picture 1
See Gabby picture 2
See Gabby picture 3
These are pictures I took today at a middle school within walking distance of our house. It has a big open field and woods to roam around in. Today was our first real snow of the year and she loved it.
Again thanks so much. It is so wonderful to have such a well trained dog and I love showing her off to all those people that doubt a beagle can be trained.

Thanks,
Michelle and Tom


Subject: Deep Run Midnight Desperado
From: Ed and Buck
Date: Sun, 28 Jan 2007
To: deeprunfarm@deeprunretrievers.com

Hi everyone at Deep Run, A friend took a wonderful picture of Buck (Deep Run Midnight Desperado), after an Eider hunt this season. So, I thought I would send it along. See Buck picture.

Buck turned 5 this past November. The two of us have learned a lot along the way. This past summer Buck earned his AKC Senior Hunter title. He went 4 for 4 in Junior and 4 for 4 in Senior. I am planning on running Buck in Master this summer.

Buck is a very handsome dog and impresses everyone with his ability wherever we go. He's so muscular now when he wants attention he pushes me around until I give it to him.

Thank you for a great dog and companion,
Ed and Buck.


Subject: Maize Update (HeroXCharm) litter
From: Jacqueline
Date: Thu, 11 Jan 2007
To: DeepRunRet@aol.com

Phyllis - Happy New Year. It's hard to believe that our baby girl turned a year old yesterday. My how time flies. We couldn't be more pleased with the joy that she has brought to Dave and I. She has quite the personality and ALWAYS must be the center of attention. And, despite the fact that she is now 50 plus pounds she is quite sure that she is a lap dog. She loves the water and using her paws. I can't tell you how much enjoyed this past 10 months with her and look forward to the years to come. I cannot tell you how many compliments we get on what a gorgeous dog she is. I hope all is well down at deep run. I am sure one day we will want to add to the family again. I have attached some recent pictures for you to say. Thanks for such a great dog.
See Maize picture 1
See Maize picture 2
See Maize picture 3


Jackie and Dave


Date: Mon, 8 Jan 2007
From: Elizabeth
To: deeprunfarm@deeprunretrievers.com
Subject: Thank You

We just wanted to thank you again for identifying such a wonderful puppy for us. Nelly, our yellow lab puppy from Spencer and Hannah, is pure joy. She is so loveable and has fit right in with our family. She is by far the most well-adjusted pup we have ever seen. Even our vet was impressed and complimented Deep Run for Nelly's excellent conformation. We look forward to bringing Nelly back to Deep Run in February and March for her training session. Thank you again!
See the

page of letters and pictures from our satisifed customers

Deep Run Farm
13727 Blackwells Mill Road
Goldvein, VA 22720

(540) 752-4710/4888 FAX (540) 752-4775 deeprunfarm@deeprunretrievers.com

Home | About | Breeding | Puppies | Trained Dogs | Health Care
Customer Feedback
Norwich Terriers | Kudos | More Information