AFTER DEEP RUN FARM
Here are some letters and photos we received from satisfied owners
(Last names and addresses have been omitted)
Subject: Hunting
From: Karl
Date: Wed, 24 Dec 2008
To: deeprunret@aol.com

Jack and Phyllis,
We had a great first day with Aspen in the field at Chestertown this morning and wanted to send you some pictures. We were going to go yesterday afternoon but passed when it was bluebird clear and we decided to go this morning with the weather coming in. Turned out to be the right decision. The birds were everywhere coming off the Chester river starting around 8:30. Almost to many at times in that we had to let allot of singles and doubles go by because we didn't want to sky bust on flocks of 100+ just outside the singles and doubles. We had 3 first time hunters with us so our guide Zach was really trying to drop a big flock right on top of us. We went with a smaller set up of decoys (about 5 dozen) and twice the big flocks actually landed just out of gun range outside the decoys.
Aspen did terrific! When the guns started firing he really sensed it was show time. Zach left his working dog home and he walked Aspen out and Aspen went right on a straight line till he found a bird. He delivered his first bird to the pit and went right after the other bird that was down. Twice he was out in the decoy's with Zach when other birds came in and he was very steady while Zach called from out in the decoys with him. He never refused a retrieve to the pit. Zach sent me a text afterward saying how impressed he was Aspen!
Classy is doing very well and she and Aspen seem to be getting along fine. My wife is a little overwhelmed with the 2nd dog! As Classy recovered from getting spayed last week and she started feeling better, I think Aspen learned he might not quite be the boss of the house like he thought he was at first. Hopefully you can get down to the farm soon! I might try it again next week. Have a great Christmas at DeepRun!

Karl


Subject: Deep Run's Classy Chassis a star at the Cleveland Crown Classic
From: Robert
Date: Mon, 15 Dec 2008
To: deeprunfarm@deeprunretrievers.com

Dr. Giroux,
A happy thought to share as Deep Run Farm's Classy Chassis (Hero/Classy) "Royce" turns 2 today. At this past weekend's Cleveland Crown Classic Royce was a star. On Thursday, Royce won both the Open Standard 20" class, and the Open 20" Jumpers w/ Weaves classes, earning two title ribbons. On Friday we then elected to move up to the EX-A class. She responded with a third place finish in EX-A Open Standard. On Saturday, Royce bested 21 other dogs to win the EX-A Jumpers w/ Weaves 20" class!! The Crown Classic attracts 3500 dogs for conformation, rally, obedience, and agility. It is one of the mid-west's biggest shows of the year. What Royce did turned a lot of heads.

This past fall at the Buckeye Retriever Club's fall Hunt Test Royce earned her first AKC JH leg. She really loves Hunt Test training and I am lucky that I live only 6 miles from Buckeye's training grounds. Every Friday morning this past spring and summer we joined a hunt test training group. We spent a lot of time this summer in the field. I am now working on hand signals with Royce and look forward to the spring thaw. Also, as a member of Buckeye Retriever club I want to thank you for lending a hand to our club pro Bob Reckart.

Our house sits 250' back from the road so every morning Royce retrieves three morning newspapers as her daily job.

Royce has her AKC NAP, NAJ, OA, OAJ, titles as well as her CGC all before age two. She is a remarkable performance dog who loves to compete. The bigger the stage the better she performs. Next year we hope to complete her JH, begin training for SH, earn a WC, and begin accumulating points to qualify for the 2010 AKC Agility Nationals.

I will want another Deep Run Dog in the future to compete with. For now, Royce is everything I could have hoped for …and more.

Warm Regards,
Robert
Mentor, Ohio


Subject: Oscar
From: Bob
Date: Fri, 12 Dec 2008
To: deeprunfarm@deeprunretrievers.com

Phyllis, thank you so much for allowing us to adopt Oscar (SAM and Acorn offspring 9/28/08). He is a true star. He has slept through the night in his crate every night since we brought him home ten days ago. He wowed our vet office by approaching their front door on his first full day with us and promptly sitting while I opened the door and walked through ahead of him….he has done that at every door in and out since his first day with us. He is of wonderful temperament, is great with our kids and is extremely smart. We have literally had fifty visitors to our home in the last week and he greeted every single one with a wagging tail and a wet kiss. He dutifully goes out several times a day to his designated spot and immediately does his business. In one week he has mastered sit, down, paw and roll-over (almost). He is a great addition to our family.

Thank you again and Merry Christmas.
Bob


Subject: Trained Dog Sale
From: Kate
Date: Wed, 10 Dec 2008

Hi,
I just wanted to commend you on how amazing your dogs are. My family purchased Mister Coffee, a started chocolate lab, from you in 2007, and just this past week added to our family with another of your featured started dogs, Apollo from Caer Bren (whose father is your dog Colonel).

Coffee has been such a bright spot in our lives this past year--he is so sweet, incredibly well behaved (except for consuming the occasional sock!), and absolutely adorable. People stop us on the street, in the vet's office--basically, wherever we go with him--to tell us what a beautiful dog he is. Even more charming than his good looks, though, is his winning personality. He is so perceptive to the feelings of those around him, and is always willing to warm your feet, lick your face, or play a game of fetch to cheer you up.

Now that we are bringing Astro (Apollo) into our family, I think the fun can only double. I met him this past weekend, and he also shares Coffee's sweetness and handsomeness--but with a bunch of puppy energy to spare!

Thank you so much for putting so much time and effort into raising such wonderful dogs. It really does the breed proud, and I cannot see myself or my family getting a lab in future from anywhere else than through you or those with whom you feature on your website, like Jackie. You really make people's lives better and happier for knowing your dogs.

Sincerely,
Kate


Subject: Margie and Rocky puppy
From: Julie
Date: Fri, 28 Nov 2008
To: deeprunfarm@deeprunretrievers.com

Jack and Phyllis, I just wanted to let you know how the puppy is doing I got from you in July. She is a star already!!! My husband has taken her goose hunting 5 times since the season came in on the 15th of this month. On her first hunt she made 3 water retrieves. She has retrieved birds on every hunt she has ever been on. She chases down cripples like a pro already. (Not bad for just a baby at 5 1/2 months). He couldn't be happier with her. She is growing fast. Looks alot like her mom. She is beautiful. She is very well behaved, very smart, and very lovable. We couldn't be happier with her. Thanks for such a great puppy.

Have a happy holiday,
Julie


Subject: FEMA Certification
From: Bobbie
Date: Tue, 18 Nov 2008
To: DeepRunRet@aol.com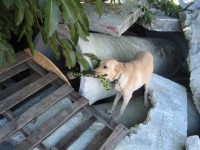 Hi All
I thought you would like to know that Spirit passed her FEMA Type 1 CE certification test on 11/15/08. She is a Buddy and Dash puppy born on 12/31/05. She did it in grand style.
See Spirit picture 1
See Spirit picture 2
See Spirit picture 3
See Spirit picture 4

Thank You
Bobbie
Canine Handler
PATF-1


Subject: Update on Lacey
From: Brett
Date: Mon, 10 Nov 2008
To: deeprunfarm@deeprunretrievers.com

Jack and Phyllis,
We thought we would send you an update and some photos of Lacey. This weekend she earned her junior hunter title. What a thrill it was for all of us. She performed unbelievable this weekend. We received comments from both judges and other handlers on how great she performed. Some told us about how she was "by far one of the best dogs at the test" and after the land series we were told "now that is how it is supposed to be done". We are so proud and owe so much both of you.
Three dogs from deep run received their titles this weekend and you can just tell the quality of the deep run dogs.

photo 1
photo 2
photo 3

Jack, I also wanted to send you a personal note thanking you so much for everything. You training with Lacey has given me the exact dog I have always hoped for. Her enthusiam for being a hunt dog is unmatched and her demeanor as a member of the family is perfect. The balance you helped to create is priceless.
Thank both of you so much!

Brett and Holly


Subject: Stache, a Deep Run Farm Dog receives the Presidential Service Award
From: Paula
Date: Mon, 3 Nov 2008
To: deeprunfarm@deeprunretrievers.com

Dear Jack and Phyllis,
I am forwarding you an article announcing the Presidential Service Award recipient Stache, a Deep Run Dog. We are all so excited for the McCans family. Your dogs are amazing !! Jim Mc Cans is so very proud. You actually have a tape of one his lectures with Stache.
Jim McCans was the individual who told me about your Farm and I received Bearre Manning who is doing quite well. By the way, I am sending you an invitation to my Change of Command in Virginia. Since Jack grew up with the USMC I know both of you would appreciate the invitation. I realize your lives are very busy but just wanted you to know I appreciate all you do and have done for our family. You sent us an incredible dog who is one with the woods and water. Now, I am getting him to fly with the USMC as a Devil Dog!I want to send him down to Deep Run for some expert training in the near future.

Take Care and Best Regards!!
Paula


Subject: Our wonderful puppy (Tutti & Hero 7-29-08)
From: Jackie
Date: Thu, 23 Oct 2008
To: deeprunfarm@deeprunretrievers.com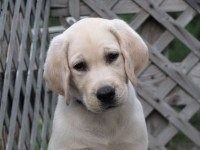 Dear Phyllis & Jack,
We both wanted to let you know how much we love our wonderful puppy, Deep Run Endal Bentley!! He is a true joy to live with. He has adapted so well to our household routine and house training has been a breeze. We have started puppy class and he is clearly ahead of the other puppies in his skill level as well as socialization. He is also enjoying his new big brother (Service Dog Franklin) and they have become the best of friends. We look forward to many many years of love and devotion. Our biggest congratulations to Tutti & Hero for creating such a wonderful little guy!!
See Endal picture 1
See Endal picture 2

Thanks again!!
Jackie & Jim
(Franklin & Endal too!)


Subject: Update on Crewzer
From: David
Date: Thu, 16 Oct 2008
To: deeprunfarm@deeprunretrievers.com

Crew is doing just fine. We're currently trying to figure out who's the boss but will get that all sorted out soon. I thought I'd send a photo of a situation which developed the other day while we were outside chilling out.
He had been sleeping behind my chair and I had stood up to look at a hawk. After a couple of minutes I started to sit back in the chair but looked back just in case. This is what I saw: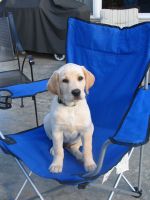 Subject: Lucy!
From: Kim
Date: Mon, 29 Sep 2008
To: deeprunfarm@deeprunretrievers.com

Just wanted to share with you...
Lucy and I are driving to Choctaw, Oklahoma tomorrow morning for our first puppy head start class with Mr. John Amico at Deep Fork Retrievers. I told Mr. Amico that I got Lucy from you guys and he said, "I know Jack, I've known him for many years." He said that he has trained a few puppies from your kennel before and they are quick learners. I told him I hope to keep that going with Lucy! I am really looking forward to going-it is one on one. He is going to give us enough to work on for the next 3 weeks and then we will head back to Oklahoma again. Our lesson is at 9am and we are about 3 1/2 hours away so it will be an early start in the morning. He said to not feed Lucy so she will be starving by the time we are all done!!
She is doing so well. She loves to wonder about and explore. Last night she played with a toad. She is in the pool all the time and is now swimming really well and retrieving in the pool. She plays alot with our other lab, but our sheltie is still not a fan of hers yet-hopefully when she is done teething they will bond a little better. She had her last round of shots and weighted 27 1/2 pounds. Oh, our vet, who is a huge lab lover, absolutely adores Lucy! Actually everyone in the office loves to play with her!
Here are a few of our latest pics (after her swim last night with our daughter)
See Lucy picture 1
See Lucy picture 2
See Lucy picture 3

Have a great week
Kim


Subject: Crew's Trip to NC
From: David
Date: Tue, 23 Sep 2008
To: deeprunfarm@deeprunretrievers.com

We had no trouble at all coming home. He whined just a bit but settled down and traveled calmly. No trouble last night..no crying and he listened to county music all night but slept most of the night. Went out twice after 10:00pm
This morning he and I went down the driveway to get the paper. It's about 50 yards. HE carried the paper all the way back to the front door....I didn't ask or encourage he just picked it up!!!!

Thank you for a terrific pal..You folks are tops!!
David


Subject: Duke's first retrieve
From: Paul
Date: Wed, 3 Sep 2008
To: deeprunfarm@deeprunretrievers.com

I want to thank you guys for another wonderful dog. I think Duke has a better temperament than Bella had. He even made a retrieve all by himself. See Duke's picture. He saw the bird fall, marked it, and brought it back to me. That was one of the most awesome experiences ever. That's why we own retrievers I guess. I hope all is well in upstate VA and thank you again.

Sincerely,
Paul


Subject: Thank you
From: Greg
Date: Mon, 25 Aug 2008
To: deeprunfarm@deeprunretrievers.com

Good evening,
About four years ago we had Boomer, our black lab, spend a couple of weeks with you (on two occasions) for training. He had come to us through Lab Rescue. Your training of Boomer, combined with the great care he received while at your facility transformed him into a lab that loved being with other dogs (before that, he wanted to be the "one and only"). He also unlearned some bad behaviors he had learned early in his life before coming to Lab Rescue. Always a special dog, his time with you made him into the truly magnificent dog we knew was lurking inside. Shortly after Boomer's time at your facility we relocated to Madison, WI.
Last week we had to make the painful decision to euthanize Boomer. He had begun having grand mal seizures and it was determined that he had a brain tumor. While medications may have kept him with us for a few more week or months, the decision was easy----if he couldn't run and chase his Frisbee, jump in a swimming pool, or the many other things he took great joy in doing, then it was time to let him go. It was one of the most difficult decisions of my life.
I write to thank you for giving Boomer the confidence he needed to "be a lab". He came back from his time with you a happy dog; confident that he could take on any challenge put before him.
When we are able to consider bringing another lab into our home we will definitely be in touch with you.

With profound thanks,
Greg & Bruce


Subject: Lucy!!!!
From: Kim
Date: Fri, 22 Aug 2008
To: deeprunfarm@deeprunretrievers.com

We are absolutely LOVING Lucy! She is such a wonderful puppy. We headed to Washington DC after picking her up and just walked around (she got carried most of the time). We smuggled her into our hotel after finding out they don't allow pets and she was a trooper-no accidents!!! She did great on the plane ride home-not a peep!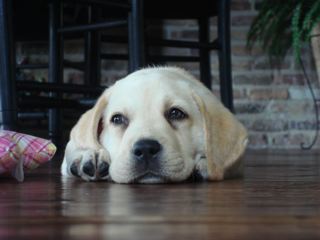 She has fit right in with our family. I took her to Houston, TX so she could meet our son. That is about a 4 1/2 hour car ride and she was again the perfect puppy! Our day consists of waking up around 7am-playing, eating breakfasat and then heading out for a quick walk. She comes in and sleeps the afternoon away-waking every so often. She has found some favorite spots in the house-the kitchen tile, our master bath floor, or the utility room. In the evening after dinner-we go outside and play. SHe loves to just wonder around and explore. Sometimes we swim (had lots of rain and cooler weather this past week but back into the 90's again and sunshine) She has not had to be kenneled very much because she is so good. Only time I have kenneled her is when we have to leave for awhile or at night. She is doing really well when it is time to kennel also. She loves to play with Sadie, our 8 year old lab, and also loves to play with our Archie, our 7 year old Sheltie. I think she likes to play with them way more than they like to play with her though. Sadie tolerates her really well, but Archie, which we have deemed the middle child, isn't as thrilled. They are slowly bonding! She loves to swim. She is now getting into the pool on her own. We have a tanning ledge in the pool so she gets in and walks around on it alot-hasn't really ventured off of it to much unless we are in the pool with her. She is sitting, retrieving toys, and walking on her leash really well. I love the mornings-after we play, all 3 dogs get a doggy bone and they all sit so cute together! Oh, and potty training-has been a breeze. She is basically potty trained-no accidents as of yet in her kennel and only 2 in the house and that was on our way out-YEAH!!! SHe also loves to play with our Shiloh, our rabbit. Shiloh use to have the run of our other backyard but we can't do that here-he doesn't have his little pen built yet. Our other dogs and Shiloh are buddies and take naps together-hopefully Lucy will do the some!! The last picture is with our daughter. Lucy had been playing outside and swimming all day and was pooped!
We are looking forward to obedience classes together which start in a couple of weeks. Mark is anxious to start working with her also. She won't be ready this hunting season but hopefully will be ready to go next season!!
Just wanted to share a few pictures and say thanks for such a GREAT puppy!
See Lucy picture 1
See Lucy picture 2
See Lucy picture 3
See Lucy picture 4
See Lucy picture 5
See Lucy picture 6
See Lucy picture 7
See Lucy picture 8
See Lucy picture 9

Kim


Subject: Our Toby 12 Months Later...
From: Christopher
Date: Mon, 11 Aug 2008
To: deeprunfarm@deeprunretrievers.com

Hello Deep Run!
We just wanted to drop a note now that our Toby is just over a year old and show you how much he is loved.
As you can see from the photos, he has taken to camping (carrying his own pack with water and food). He also has a drive to retrieve like no one has ever seen - and our family is long into labs! He will fetch for upwards of three hours (not sure how long he'd actually keep going, but our arms get tired after that length of time). Afterwards he is just as happy to curl up with any of our family and do his best impression of a foot warmer.
You must have driven him everywhere as he is the most relaxed dog in the car I have ever seen. Within minutes of driving away he is curled up asleep on the back seat. We have attached some photos (we think he looks like Buddy, his dad). You breed and raise an amazing dog, we will definitely be back to get a companion for him within the next few years.
PS We are moving to DC in January (I had a job offer in the beltway) and will probably be living near Arlington. Do you have any vet recommendations for the area?

Thanks very much, keep up the great work!
Christopher


Subject: Satisfied Customer
From: Melissa
Date: Fri, 08 Aug 2008
To: deeprunfarm@deeprunretrievers.com

Dear Phyllis & Jack,
My Name is Melissa, and 4 years ago my parents, Diane & Joe, purchased a yellow male lab from you. His name is Tugger, and he is definatly a celebrity around here! Tugger is my dad's main man. Considering that my dad lives in a house full of girls, and never had a son of his own, Tugger IS my dad's son! In fact, he sometimes calls him son! They do everything together, and Tugger never goes far from his dad! He is an indoor/outdoor dog, but he wants to be wherever we are. He sleeps in my parents bed at night, and if he is inside, he spends his time relaxing on the air conditioning vent! When he hears the air conditioner turn on...he makes a run for the vent! He is absolutely hilarious. When our friends come to our home, the first thing they say is, "Where is Tug?" Everyone loves him. He has a wonderful personality. He is very out going, and he shows his love to everyone. We love him more than anything, from his late night snoring, to his incredible appetite, to stealing the Christmas ham off of the kitchen counter BEFORE we sat down to eat, to his loud burps after he eats or drinks, we couldn't have asked for a better dog. We don't know what we would do without him. It has taken me 4 years to send this, but in those 4 years, we have spent some of the greatest times of our life with Tugger. He comforts me when i am sick or upset, and he knows exactly what to do to make me laugh or smile when i'm down. Thank you so much for what you've given us and we hope to enjoy him for many many years to come and eventually, i'd like to add a deep run retriever to my own family. Thanks Again! Pictures of Tugger are attached! (one of the pictures is of him sitting on his air conditioning vent, with the curtains on his head!)
See Tugger picture 1
See Tugger picture 2
See Tugger picture 3

Melissa
Mechanicsville, Maryland


Subject: Photos of Colonel x Georgia male (Charlee) we have available
From: Christine
Date: Wed, 6 Aug 2008
To: DeepRunRet@aol.com

Hi Phyllis,
Charlee is doing great. He is so smart and very easy to teach. What a beautiful boy he is. We spend a lot of time together going for walks around the lake, swimming and boat rides. He loves his boat rides!! I was thinking about setting up an agility course in the backyard because he gets this wild hair and races around the yard. He moves great and jumps beautifully. Anyways, I just wanted to give you an update. See the attached pics.
Charlee picture 1
Charlee picture 2

Thanks,
Christine


Subject: Kelby a year later :)
From: Amy
Date: Thu, 15 May 2008
To: Deep Run

Hi,
I just wanted to send you some pictures of our wonderful dog, Kelby. We're so glad we were able to find you and your dogs because she is absolutely the most wonderful dog. Good personality, really funny, athletic. She has never chewed anything in our house, knows how to entertain herself, and has become best friends with the dog next door (they have a weekly playdate in the backyard where they play ball...attached is a picture). Since she's a year old today, I thought I would send some pictures and just thank you again for such a perfect addition to our family :)
See Kelby picture

Amy


From: Matt
To: deeprunfarm@deeprunretrievers.com
Sent: Thu, 1 May 2008
Subject: K Bear (Bel and Buddy's)

Getting one of your dogs has been the best thing that has happened to our family. Living on the campus of a small all boys boarding school I can feel comfortable letting him run around free and play with the students, he is incredibly gentle with small children and all the other faculty dogs. What I find so amazing is his ability to become focused and transition when it is time to hunt. His instincts in the field, have led to two professional guides saying they have never seen such a talented lab in their careers. No matter how long I keep him out he will never stop working or lay down. I will never go anywhere else when it comes to Labs !
See K Bear picture 1
See K Bear picture 2


All the best,
Matt


From: Matt
To: deeprunfarm@deeprunretrievers.com
Sent: Fri, 25 Apr 2008
Subject: Sam(Desperado/Charisma)

DeepRun,
Coming up on Sam's(Desperado/Charisma) third birthday and i just wanted to share how happy I've been with him. He has become the best hunting dog I've ever hunted with. Only on his second complete season here in Louisiana and i cant count the number of ducks he's retrieved! He even goes out with guys from my hunting club strangers to him, and has preformed so well that i have friends come by my house on days i can't hunt and take him out. Now that in my mind is the ultimate compliment to a hunting dog!
He is also a hit around the neighborhood! He's kind of a minor celebrity with all the kids. Which works to my advantage because i always have plenty of volunteers help throw dummies.
All of this he has accomplished despite the fact that I've made more mistakes in training him than i can count. Thanks for your time and effort in researching, developing, and producing such a great legacy of hunting dogs.
See Sam picture 1
See Sam picture 2



Subject: MHR Deep Run Sir Drake of Gateway
From: Joe
Date: Thu, 24 Apr 2008
To: deeprunfarm@deeprunretrievers.com

Jack,
I thought I'd write to you and let you know what a fine dog that little puppy of Rocky's turned out to be. I'm not sure if you remember, my father and I came down from NY to pick him up at the end of September 2005.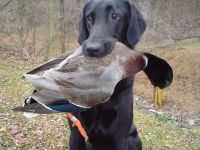 At the time I had never run in any dog games, just hunted and had some experience training our previous dogs. I joined up with the Leatherstocking Retriever Club and have had a blast.
Drake ran his first started test in May of '06 at 9 months old and by July, just over 11 months completed started. He went 4/5 because of my mistake, not his. In August at 1 year old he ran and passed his first intermediate with flying colors. The first fall at a year old we hunted quite a bit, from the swamps, on Keuka Lake, and two trips on the St. Lawrence after bluebills and redheads. Not to mention a couple pheasant hunts and numerous trips to the corn fields to drag back some geese!
Last year Drake finished up his Intermediate 4/4 and immediately went into Senior. On 8/4/06, his 2nd birthday, he completed Senior 4/4 for his MHR!
Like I said, he has turned out to be a great dog. He has a lot of drive and is a great house dog…not a big cuddler…but he likes to be with us all the time and goes just about everywhere with us. He has yet to lose a duck and you should see him knock down a crippled goose at full speed! He just loves the water, icy or not, and goes right through anything. He has been a pleasure to train and a great student. His natural abilities and talents are amazing.
I just thought you would be interested in knowing what happened to this pup. I'd certainly be interested in knowing about his brothers and sisters. I periodically check your site to see what Rocky has been doing. I am also attaching some pictures so you can see what he has turned out to be!
Thanks a lot for the great dog. I can't wait to see where we go from here…hopefully another will be in the future!
See Drake picture 1
See Drake picture 2
See Drake picture 3

Sincerely,
Joe


Subject: Photo of one of Hero's pups
From: Gina
Date: Sun, 06 Apr 2008
To: deeprunfarm@deeprunretrievers.com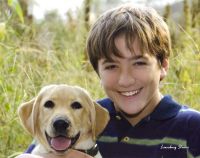 Dear Dr. G. and Deep Run staff:
I've just finished browsing your website. It looks like Hero has been a busy boy!!!! I thought I'd share this photo with you that was taken last fall. We bred our dog, Sunny (from Morning Sun's Zena & your Benny), with Hero last year. What a pair mother and daughter are! Loveable, smart, and lazy dogs, yet when it's time to work, they're total business. The first time Amber went pheasant hunting, she amazingly knew just what to do. Sunny usually flushes the birds, but Amber always retrieves. She's very easy to train. Thanks for providing such a fantastic facility. Our experience was great. Hope all continues to go well for you.

Sincerely,
Gina


Subject: Update on Chase
From: Michelle
Date: Sat, 5 Apr 2008
To: deeprunfarm@deeprunretrievers.com

Hi Phyllis,
I just wanted to let you know that Chase is doing great! We are madly in love with him and constantly amazed at his wonderful, calm and intelligent personality. He's been to a couple of training lessons and is very responsive. We go on lots long walks every day and he has lots of playmates in our neighborhood. Chase is great with the girls and my older daughter is really doing well taking the lead with him. I think we have a great opportunity here to achieve our goal of someday doing volunteer work with him in hospitals and/or senior homes.
And I know I am biased, but I can't get over how gorgeous he is turning out to be. I know your dogs are all so beautiful, but every time I look at him, I am just amazed at his build and his beautiful shiny coat. I am really proud to walk with him and receive all the wonderful compliments from others who are impressed with his looks and personality.
I've attached some pictures and I think you'll see he is very well adjusted!
See Chase picture 1
See Chase picture 2
See Chase picture 3
See Chase picture 4

Sincerely,
Michelle


Subject: Mace
From: Todd
Date: Fri, 28 Mar 2008
To: deeprunfarm@deeprunretrievers.com

I'ts been 4.5 years since Mace visited Deep Run Farms. I wanted to let you know that Mace is a wonderful hunting dog. We belong to a local hunt club that keeps her in plenty of birds and we waterfowl hunt as often as we can.
See Mace picture 1
See Mace picture 2
I just wanted to thank you again for the work you've done with her. She hasn't needed any more formal training since going through your obedience and hunt training programs. I have learned to work with her on my own, and I am still amazed at how much she has retained and progressed. I look forward to working with Deep Run in the future, as I am thinking of getting another labrador. I would recommend Deep Run Farms to anyone who wants a well trained gun dog and family pet. A dog who equally adept in the field as is on the living room floor. Thanks for everything!

Todd
Sandusky OH


Subject: Stache update
From: Jim and Stache
Date: Wed, 26 Mar 2008
To: deeprunfarm@deeprunretrievers.com

Dear Deep Run,
I am sending you this update regarding Stache. You may remember Stache as the dog that attended the Philadelphia Police Academy and became certified as a USPCA Cadaver Scent Dog. Our last update was several years ago when Stache and I searched for victims after Hurricane Katrina.

Stache's talents have been in great demand. We returned in December from a two month deployment to Iraq where we searched for remains. Stache was remarkable and received awards from the 101st Airborne Division and The 3rd Infantry Division for his performance. On November 18th Stache was injured when a soldier in our detachment unknowingly triggered and IED, Stache has fully recovered from a ruptured eardrum and we have been to Walter Reed Hospital to visit the severely injured soldier.

Needless to say, Stache was instrumental in several recoveries and was a great asset. He also contributed by just being himself and playing with hundreds of soldiers who missed their dogs at home. It would be accurate to say that Stache made the war go away for a period of time for these troops by playing tug of war, retrieving anything they tossed, or simply receiving pets.

I have included a picture of Stache and I in Owesat, Iraq the morning of the blast.

Thank you for breeding such a remarkable and talented line of Labs.

Stache and Jim
Havertown, Pennsylvania


Date: 02/29/08

Hi Phyllis,
Just a note to say THANK YOU for such a wonderful dog. We are going to call her Keelee and she was wonderful on the ride home and continues to amaze me with her ability to listen to commands and has adjusted to my house like she has lived her for much longer. I will recommend your farm to anyone I know who is interested in a lab. I will send photos see Keelee picture and show you what a love she is to us and my family.
Wendy


Subject: Lucy
From: Philip
Date: Thu, 28 Feb 2008
To: DeepRunRet@aol.com

Dear Phylis and Jack:
It has been five years since I came to pick up Lucy. She was offspring of Elvis and Maggie, and just turned Five. She is a very beloved member of our family in NYC, but as I promised you, I was going to put her great pedigree to work and not turn her into a lazy NYC Lab. Anyway, today was the last day of pheasant season at the Club I shoot at- it is called Clove Valley Rod and Gun Club- beautiful old club about 75 miles north of Manhattan where we also have a home. The Club has 6,000 acres and it is spectacular.
Anyway, I could not help but notice the uncanny similarity between our girl Lucy, and her Dad, Elvis. Thought I would pass this along. She is a FANTASTIC gun dog, and even better pet and "sister" for our 3 year old, Olivia.
Cannot thank you enough- and cannot believe Lucy is 5, but hope you agree, she has turned into a really great young lady.....
See Lucy with pheasants

Best Regards,
Tod


Subject: Powhatan
From: Kevin
Date: Sun, 10 Feb 2008
To: deeprunfarm@deeprunretrievers.com

Our puppy Powhatan from the Buddy & Irish litter is the perfect addition. He is a lot of fun and keeps us moving. You had mentioned that Buddy is funny - Powhatan is always the entertainer. He really is funny. He was house trained in a matter of days - swims like an otter and catches the frisbee like a champ. His training is going great, he works really hard - you can almost see him concentrating - he is certainly smart. Everyone always stops us to say how handsome he is - We may be a little biased but he is the best looking dog. I would never get another dog from anywhere else. During the car ride home, we could see that he was happy and confident - he moved right in comfortably and our old golden took to him immediately - they are the best of friends.
Thanks for great dog!
See Powhatan picture 1
See Powhatan picture 2
See Powhatan picture 3


Rosanne & Kevin


Subject: inquiry about litter
From: Drew
Date: Thu, 31 Jan 2008
To: deeprunfarm@deeprunretrievers.com

I am writing to inquire about future litters at Deep Run Farm. We are current owners, of a Fox-Red Labrador from Heidi and Hombre in late 2003. I can't quite begin to explain how please we have been with our Labrador, Deep Run's Silver Lining (Bosco). Without a doubt the best investment we have ever made, and would be more than willing again. We have received nothing but praise and compliments on him, from the dog trainer, our vet, and everyone that comes into contact with him. He was so easy to train, his personality matched ours exactly and he is just such a great companion. Bosco has been a great family addition and we were wondering if there will be any more litters from Hombre or Heidi. We have fallen in love with the Fox-Red color, but ultimately we would be willing to accept any dog with the same personality traits as Bosco.
If you know of any litters that will be coming up in the future please let us know.
Again, I want to thank Deep Run for the great dog, the amazing experience and for your commitment to exceptional breeding. I enclosed a picture of Bosco, daily we think he looks like he should be on the cover of a hunting magazine.
See picture of Bosco

Thanks,
Drew


From: Linda
Sent: Tuesday, January 22, 2008
To: Deep Run Retrievers
Subject: MACH Deep Run Whiskey River SH OF CGC

Greetings! We are proud to announce that Willie (Elvis/Rita ~ 7/25/04 litter), is now an Agility Champion! On Sat., January 19, 2008, at 3 yrs and 5 months, Willie became the youngest 24" jumping Lab to achieve his MACH (Master Agility CHampion). With snow coming down outside (thankfully, we were inside), we had an amazing jumpers run at 5.15 yps to finish his 20th QQ! We think he is the 1st Deep Run Lab to earn a MACH, and we couldn't be prouder of our big boy! We hope to finish his MH this year and work towards MACH 2. Thank you again for breeding such an outstanding Lab!
See Willie's picture

Linda & Brandon
MACH Deep Run Whiskey River SH OF CGC
Twin Lakes Whiskey Lullabye JH AX AXJ NF
MACH W.J.'s Pick Up The Tempo CD JH AD CGC (retired)



From: Chris
Sent: Wednesday, January 02, 2008
To: Phyllis Giroux
Subject: Charlotte

Hi Phyllis,
Just wanted to let ypu know that Charlotte could not get a Vet appointment unyil January 8, tried for earlier but with the holidays and all I guess they are a bit backed up. Charlotte is getting used to the new household and she and Holly have hit it off pretty well, although the toys are not fairing to well. They seem to delight in both grbbing the same toy and having a grand tug of war. I ordered the glyco flex and the missing link and they should be here today.
By the way if anyone has concerns about house breaking one of your older pups, you can let them know that within a day and a half Charlotte goes to the back door and asks to go out. This with only positive reinforcement and going outside lots on the first two days. To say we are pleased would be an understatment.

Thanks Again,
Chris


Subject: Roxie
From: Marty
Date: Thu, 29 Nov 2007
To: DeepRunRet@aol.com

Hey Guys
Hope all is well. Roxie has been run ragged - hunting 3 to 4 times per week. She is easily the most talented dog and most fun dog that I have ever experienced. While Sis is a technician in the field - all business - Roxie is like a kid on a snowboard. She has learned birds extremely well, and her ability to look at a piece of cover, survey the wind, where I am, and get birds, up is amazing.
Let us know if you have any repeat breeding coming up. We'll take one.

Marty G

Marty is the owner of Mother which is one of the top selling hunting vests in the country, featured in Orvis, Cabelas, etc.


Purity of line, loveliness, symmetry - these arrive mysteriously whenever someone who knows and cares creates something that is perfectly fitted to do its work.


Subject: Hero/Hannah Pup
From: Chris
Date: Tue, 13 Nov 2007
To: deeprunfarm@deeprunretrievers.com

Phyllis & Jack,
I'm the proud owner of Deep Run Tuckers Hero, from Hannah and Hero's June 10, 2007 litter. He's the one that was returned when the previous owners developed allergies. (their loss) I hate to bring this up, but I have one complaint. Tucker has mastered every command and instruction that I've attempted, with the exception of one... He hasn't figured out how to pay the mortgage.
He sits, lays, stays, comes, fetches, heels, and drops on command, but he just can't figure out how to pay the mortgage. Could this be a possible gene cross-up?
All kidding aside, this is the most intelligent dog that I've ever worked with. He's smarter than half of my graduating class. As well as being my best buddy. We're going to start hunting some still water puddle ducks this winter and work into some open water ducks and honkers later in the season, or early next year.
I'll keep you posted on his progress. Great dog.

Thank you.
Chris
Vienna, Va.


Subject: Update From Happy Parents!
From: Leslie
Date: Sat, 10 Nov 2007
To: DeepRunRet@aol.com

Hi Guys!
Well, we're only just a bit over one week into our life with our new Buddy/Cary pup, but he's already become an integral part of the family! His name is Boomerang Diggity Dash (yeah, it's long … but somehow, it fits him perfectly!), and he's such a well-mannered little fellow (MOST of the time, haha), sometimes it's hard to believe he's actually a lab puppy! Boomer is already sitting very well on command, coming (with the sit at the end), and he's learning his down command. Most impressive is how, really without prompting by us, he began sitting before exiting the house and sitting before re-entering the house from his walks. Like I said, such a well-mannered little guy! We're so impressed with Deep Run Farm and the level of attention and care that is obviously put into each pup!

See Boomer picture 1
See Boomer picture 2
See Boomer picture 3
See Boomer picture 4
See Boomer picture 5
See Boomer picture 6

Our 4 1/2 year-old son tells us constantly how much he loves "the puppy," and it's clear that Boomer feels the same way … he follows our boy around the house like … well … a puppy. :) We've attached a few pics, and we look forward to updating you with news and more pics as he gets older, smarter, and even more handsome (if possible). :)

Thanks, and all our best,

Leslie and Adam


Subject: Update on Hero/Queenie pup
From: Drew
Date: Tue, 6 Nov 2007
To: deeprunfarm@deeprunretrievers.com

I noticed your breeding Hero and Queenie again, and wanted to take the time to let you know how our boy is doing. He's been a wonderful dog for my wife and I. Not only is he extremely handsome, but hes an instinctive hunter as well. I've owned straight hunting dogs and a straight show lab in the past, and hes talents do justice to both. He's much calmer then the typical hunt breed and has a strong desire to retrieve and hunt that was lacking in our previous show lab. He truly has been the best of both worlds so far. He's now 7 months old and working hard on retrieving. He even fetches the paper every morning!
See picture 1
See home video

Drew, Kim and Harry S. Truman ;)


Subject: Goose
From: Malcolm
Date: Wed, 31 Oct 2007
To: deeprunret@aol.com

Dear Phyllis and Jack,
Thought I would share with you a few of the details about the newest addition to our family since he recently passed his six month birthday. Deep Run Wild Goose Chase II, aka Goose, has been a delight. He has a wonderful personality, loves his adopted father, Huck, loves all kids and adults alike, and loves to hunt. Since he passed every training test early, I started hunting him at five months. He has an excellent nose for all upland game, has learned to trail them, briefly point, flush, mark, and retrieve to hand. Started him on quail, then to chukars, hen pheasants, and since he did so well took him to upper New York State for woodcock and grouse. He loved it and not only handled the heavy cover well but often flushed the woodcock and beat out a bunch of older and more experienced dogs to the retrieves. He even surprised all the other hunters with me with a flush, a swim across a creek, the find, and the retrieve back across the creek. I could go on and on about him but the bottom line is that he is the easiest dog I have trained. He is very responsive, very smart, but also very sensitive. Must be those good genes from Hero and Funny. We walk a great deal or hunt almost every day now that the hot weather has finally gone, and so he is getting plenty of exercise. Currently weighs sixty pounds which I expect is about normal for a lab out of that litter.
I will continue to give you updates as he progresses but we are leaving for South Carolina in early December and then the hunting will largely be over for this season. Time to work more with the throw dummies and more on the hand signals.
Hope all is well down in Virginia.

Malcolm


Date: Fri, 5 Oct 2007
From: Jimmy
To: deeprunfarm@deeprunretrievers.com
Subject: Dixie

Jack -
I purchased a chocolate factored, female Lab puppy from you. Her name is Dixie. She was born 1/18/02, from CH, WR Simerdown"s Worthington, JH X SR Lonestars Blew Byu. I just wanted to let you know that Dixie has retrieved over 1500 birds so far. All doves except for 3 ducks. I am sure that is a conservative estimate since we hunt almost every legal day and most often get our limit. As you might expect, she has become a very good bird retriever and loves to hunt as much as I do. She is great hunting in uncut corn or sunflower, and she gets low under soy beans to find the birds. Not only that, but she has all of the heart and desire it takes to be a winner in the dove field. She is a beautiful dog and is my best friend. You sold me a first class dog. I hope all is well with you. Keep up the good work. Jimmy
See the

page of letters and pictures from our satisifed customers

Deep Run Farm
13727 Blackwells Mill Road
Goldvein, VA 22720

(540) 752-4710/4888 FAX (540) 752-4775 deeprunfarm@deeprunretrievers.com

Home | About | Breeding | Puppies | Trained Dogs | Health Care
Customer Feedback
Norwich Terriers | Kudos | More Information