AFTER DEEP RUN FARM
Here are some more letters and photos we received from satisfied puppy owners

October 22, 1999

Hi Phyllis and Patches,
Thank you for letting me visit your farm and matching me with Thistle. She is the perfect dog for me. Everyone loves her and she is very sweet.

Thistle has settled in quite well and she is very polite to my cat. They will sit side by side sometimes and watch birds at the feeder. Thistle went canoeing and swimming yesterday and last Saturday she went orienteering with me. She seems very happy to do whatever I want to do.. She plays ball, found my compass for me when I lost it last Saturday, and even brings in the newspaper after her morning walk. She sleeps in my bed at night and when I am working she is usually either under my desk or napping on the sofa. She is a wonderful companion.

Very truly yours,
Mary
softech1@ix.netcom.com

---

September 23
Greetings from Roanoke, VA

Took McKane back to our vet today for his parvo/distemper booster and he is up to 40 lbs. He also is THE top dog at Cave Spring Vet Clinic. Everyone on the staff knows him and of course, his head swells when he goes there, because all the vets and staff say, "He's the best chocolate lab they have ever seen!" He gets alot of comments about how handsome he is and how well behaved he is when he comes in.



We love McKane dearly. He is absolutely the smartest, most affectionate and well behaved dog we have ever owned. Of course, he is spoiled rotten!! I have enclosed a picture of him so that you may see how he has changed since leaving Deep Run Farm. Enjoy! Mckane sends a special "ruff-ruff" to Patches!!!

Mini Happy Brays,
Nancy Brubaker
Windswept Farm
Roanoke, VA

---

August 12, 1999

Dear Phyllis, Jack & Patches,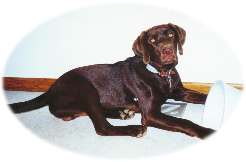 I have been meaning to drop you a line for some time to let you know how delighted I have been with "Ben", my chocolate Lab I picked up from you in March. He is from your January 22, 1999 litter of Rider and Annie. He has adapted to his NC surroundings and immediately fell in love with his step-sister, Clancey, a yellow lab. Ben is good-natured, very playful, not noisy, loves to pick on Clancy constantly in a playful way, and, most of all, LOVES his food. I just got around to introducing him to the water about 2 weeks ago. Clancey loves the lake, so she went right in. Ben looked at her and must have decided he'd jump right in. He did! (Took us all by suprise as he did it so suddenly.) As he surfaced he wasn't sure what had happened to him. He became cautious. But shortly he knew he liked the water and was swimming and fetching like an "almost" pro.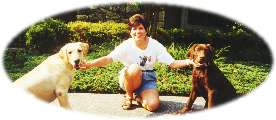 Enclosed are 2 pictures to let you see Ben. He's about 7 months now. He can sit and stay (but not for long. We're working on that!) He walks well on a leash. He's never seemed to mind that.

Let me know if you have obedience classes for those of us who live out of the area. If so, how long do they last and when are they?

Againk just a note to let you know that I am well pleased with Ben. I would certainly recommend your dogs to anyone interested in Labs.



Barbara Garlitz
Hickory, NC
---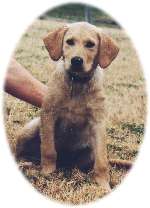 ...she is exactly what I've been wanting and I just wanted to let you know how pleased I am. I'll keep in touch and let you know how duck season goes for her next year.



- Megan McMurray
Knoxville, TN






Deep Run Farm
13727 Blackwells Mill Road
Goldvein, VA 22720

(540) 752-4710/4888 FAX (540) 752-4775 deeprunfarm@deeprunretrievers.com

Home | About | Breeding | Puppies | Trained Dogs | Health Care
Customer Feedback
Kudos | More Information