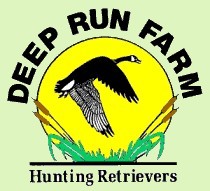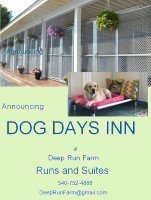 Vacation travel plans? Need a safe and comfortable place for your pet?
Dog Days Inn. Country Boarding convenient to Fredericksburg, Hartwood, Haymarket, Warrenton, Sumerduck, Culpeper, Manassas in our NEW facility.
Veterinarian owned and operated. Nature walks, playtimes, daily training lessons available while you are away.


If you decide you want one of our puppies, please fill out Puppy Adoption Questionnaire so that we can help you select a puppy to suit your lifestyle. That is the first step in getting a Deep Run Puppy.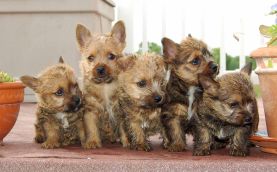 See our Norwich young adults and puppies.
News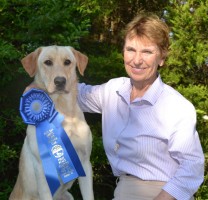 Haze wins Qualifying, is now All Age Qualified!!
Deep Run Moondog MH won the Qualifying at the Back Bay Knotts Island Field Trial June 17 and is now QAA!
Deep Run Ivy MH QAA and Shady Grove Deep Run Two Step MH (Neely) also received JAMS

Three New Master Hunters finish their Titles at the Potomac Valley Golden Retriever Club Hunt Test held at Shady Grove on June 4-5, 2016
Many thanks to Judges Fred Perini and Brad Slaybaugh for a great hunting dog test that challenged our dogs throughly while keeping them cool!
Many thanks to Shady Grove (Neil, Josh and Leslie) and PVGRC club members and all who helped make it a great weekend end, but especially for Deep Run Farm dogs.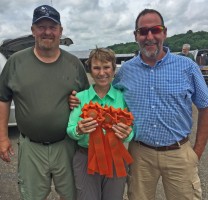 Judges Fred Perini and Brad Slaybaugh and owner/handler Phyllis Giroux DVM at the Ribbon Award ceremony.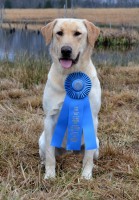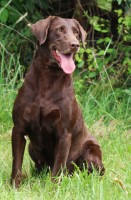 Deep Run Moondog, MH, NDL (31 Derby Points) completes his MH 4 months after aging out of Derby!
Shady Grove Deep Run Two Step, MH completes her Master Title and has been bred to Deep Run Southern Hospitality, MH, SHU for a black and chocolate litter due July 12, 2016.
Deep Run In the Money, MH completes his Master Title


NEW - See Nature photos taken at Deep Run Farm
Kudos about Deep Run Dogs

See our article about Collar Conditioning For The Gundog in Gundogs Unlimited